2-2 Griffins host 14th-ranked Canyons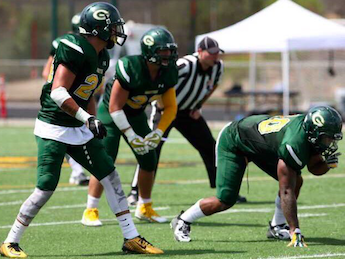 Grossmont's defense sets for a play.
2017 GROSSMONT COLLEGE FOOTBALL
By Ramon Scott
EastCountySports.com
EL CAJON – The Grossmont College Griffins have another tough opponent at home Saturday when they host the College of the Canyon Cougars at 3 p.m.
The Cougars moved into the 14th position in the CCCSIA Poll this week after their 52-42 win over Long Beach City College, who entered the game ranked 10th, but fell out of the top 15.
Grossmont is coming off a 17-10 win over Chaffey on the road last week.
The Griffins' defense may have had a bend-but-don't-break approach, but it ultimately worked against the Panthers in Rancho Cucamonga last Saturday.
Chaffey reportedly had nearly 500 yards of total offense, but the Griffins kept the Panthers off the scoreboard when in mattered most in the fourth quarter.
Canyons comes in with a good offense, led by quarterback Andrew Brito, who comes in as one of the top five passers in the state, averaging 250 yards per game, while running back Keland White is third in the state among regulars in yards per rush, averaging 8.9 yards per carry.
The Cougars are averaging nearly 500 yards per game, as well, but their defense has been susceptible, allowing 32 points per contest.
Canyons' only loss, however, was to No. 1 Fullerton at home, 42-28.
Grossmont has proven they can match points in shootouts with quarterback BRAD CAGLE, but sometimes the score has gotten away from the Griffins when playing better competition, even at home.
Griffins running back JEROME JOHNSON is averaging 77.8 yards per game and scored his third touchdown of the season last week, as the Griffins jumped out to a 14-0 first quarter lead.
Last week's defensive star was TYLER SEPULVEDA, who snapped a red zone drive off with an interception, which he returned 72 yards into Chaffey territory. ERNIE GARCIA, another former West Hills player like Sepulveda, is the team's leading tackler.
Grossmont sophomore kicker NELS HALTOM is 4-for-4 on field goals this season.