There's hope for Griffs against Fullerton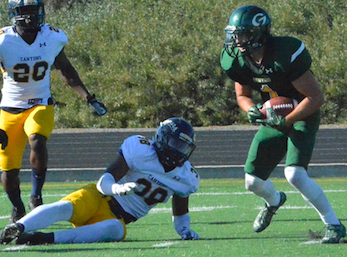 Grossmont's John Summers after a reception against Canyons last Saturday.
2017 GROSSMONT COLLEGE FOOTBALL
By Ramon Scott
EastCountySports.com
EL CAJON – Defending state champion Fullerton brings its 11-game winning streak to Grossmont College on Saturday in the National Southern League opener at 1 p.m.
The Hornets, last year's state champ, are the No. 1 ranked team in the regional state football poll.
Fullerton won last week, 57-0, over Moorpark, while the Griffins suffered a last-minute defeat, 29-28, at the hands of College of the Canyons right here at home.
Fullerton defeated Grossmont last season, 79-18, in a Homecoming win for the Hornets. The point total was a Hornet team record thanks to 11 touchdowns.
Grossmont also allowed Fullerton a team-record 79 points in 2013.
Grossmont quarterback BRAD CAGLE is coming off his best performance of the season in the loss to the Cougars.
He threw for 402 yards on 28-of-42 passing.
A sore spot for the veteran from El Capitan has been his eight interceptions to go along with nine touchdowns on the campaign.
Freshman receiver ALEX DOCKERY has his best performance so far in that outing with five catches for 102 yards and a score.
Grossmont will have its hands full with Fullerton's all-star units.
The Hornets had 600 yards in total offense last week, including 377 on the ground.
Still, Fullerton is averaging over 300 yards a game through the air despite utilizing a pair of quarterbacks.
The Hornets faced Grossmont's opponent from last week – Canyons – in a meeting on Sept. 16 on the road. Fullerton won that contest 42-28, which could indicate that the Griffins could keep the score within reach, especially if they can produce enough offense similar to game against the Cougars.
Fullerton allows an average of 300 yards per game through the air, although some of comes after the outcome has been decided.
Still, the Hornets strong suit is stuffing the run. Fullerton is allowing just 62.4 yards per game on the ground.
Running has not been the Griffins' strong suit with just a 3.3 yards per carry average.
Grossmont's defense kept Canyons off the scoreboard in the first half until the Cougars scored a touchdown with :30 left before halftime.
Cagle was knocked from the game last season against Fullerton following a sack. The Hornets had three picks against him, including two returned for a touchdown.