Hornets not finished with Griffins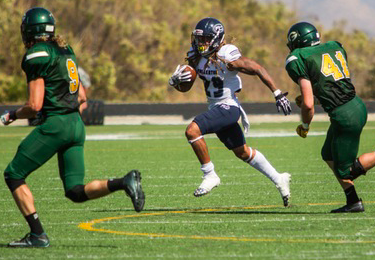 Fullerton
2017 GROSSMONT COLLEGE FOOTBALL
FULLERTON 78, GRIFFINS 9
EastCountySports.com staff report
EL CAJON – The defending state champion Fullerton Hornets beat up on the Grossmont Griffins for the second-straight season and had a record-breaking day in the process, throttling the hosts, 78-9, in the conference opener Saturday afternoon.
The Hornets won their 25th-straight game and broke their school record for largest victory in a game (69 points),  most points in a half (50), most points in a quarter (36 points), tying for most touchdowns in a half (7), and tying the record for most touchdowns in a game (11).
All at the expense of the Griffins' defense and special teams.
Grossmont failed to close the gap on their one-sided rival after losing last year's matchup against the eventual mythical national champs, 70-19, on the road.
The game didn't start out bad for Grossmont.
On the fourth play of the game, ERNIE GARCIA and KYREE WOODS teamed up on a sack and fumble recovery, as Fullerton quarterback Kane Wilson was hit and the ball popped out with the Griffins' WAYNE BARELA, out of Steele Canyon High, recovering the ball on their own 44-yard line.
From there, Grossmont went 45 yards in 11 plays and ended the drive with a successful field goal by NELS HALTOM and the Griffs were up 3-0.
Then the Grossmont defense turned fourth-down stop on the ensuing drive, stuffing a run for a loss.
The Hornets then proceeded to score 50 unanswered points over the remaining 19 minutes of the first half.
The Griffins scored their touchdown in the fourth quarter with 13:21 remaining on a 4-yard run by JEROME JOHNSON.
That made the score 71-9 at the time.
MYLIK STEEN had four receptions for 72 yards to lead the Grossmont receiving corps.
Grossmont freshman JOSH HARRIS was 5-for-6 in his mop-up duty.
Haltom kicked a field goal for the fifth-consecutive game for his seventh of the season.
Five Fullerton players scored touchdowns while racking up 420 total rushing yards.
Gerald Hulett led Fullerton with 95 yards and 3 touchdowns.
The Hornets kept Grossmont's defense busy, as SEAN WHITE was in on 10 tackles, while LOGAN BAKER, out of Valhalla, had eight stops.
Garcia and Woods both finished with six tackles, a sack and a fumble recovery each. Garcia, from West Hills High, had a team-high 2 1/2 tackles for loss.
Freshman LANE SELF had three pass breakups for Grossmont.
Grossmont had just 33 yards rushing and 177 yards passing.