Conquistadors leave no doubt this time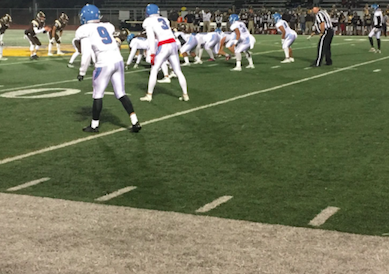 El Cajon Valley is lined up for a play against Serra on Friday.
TIERRASANTA – Serra High eliminated the El Cajon Valley Braves from the postseason for the second-straight season, as the Conquistadors won Friday's home playoff game, 50-9, in the San Diego CIF Division 4 opening round.
In last year's playoff matchup, the Q's survived a wild ride to win in El Cajon, 24-22. Serra also defeated the Braves in the 2017 season opener at the Braves' stadium.
On Friday, Serra scored in the 1st Quarter with 8 minutes to go when Kieve Curry rushed in with a 4-yard TD.
El Cajon Valley punted to Serra and the Qs took over at the ECV 36-yard line.
Moments later, Timmy Zebroski threw a 32-yard completion to Tysheid Dixon for a TD. El Cajon Valley trailed 13-0.
Serra held ECV on the next series and Jaylan Gallaway had a 48-yard Punt Return for a TD for a 20-0 lead just seven minutes into the game.
El Cajon Valley scored in the 1st Quarter with under a minute to go in the period to close to within 20-6, as senior MAQUEL GARNER capped a fine career with a touchdown in his final game.
Early in the 2nd Quarter, Serra's Bryan Pratt rushed in with a 51-yard TD for a 26-6 lead.
With eight minutes to go in the second quarter, El Cajon Valley's JOSE GONZALEZ recovered a fumble on the Serra 19.
The Braves converted the turnover into a field goal midway through the period from 34 yards out, making it 26-9.
It was the Braves second field goal in three games. More three-pointers than the team had scored in the previous 34 contests.
Curry recovered a failed onside kick by El Cajon Valley and moments later, Zebroski threw a 43-yard TD pass to Chance Cannon for a 33-9 advantage.
Zebroski added a 38-yard pass completion to Dayne Spangler for a TD to up the lead to 40-9 still in the second quarter.
Aren Cobb had a sack in the third quarter for Serra.
Curry added a 4-yard rushing TD.
Serra's Brian Arango recovered a fumble at the El Cajon Valley 35 late in the third quarter.
Serra's Rudy Lopez kicked a 24-yard field goal for good measure.
Serra will travel to meet University City next week.