Wolverines close Pats' view of end zone
Updated: November 11, 2017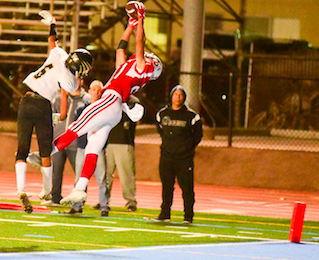 JESSE MATTHEWS scores for Christian in the third quarter. / photo by Chris Parks - scenesofyourlife.com
2017 EAST COUNTY PREP FOOTBALL PLAYOFFS – SDCIF DIVISION 2 FIRST ROUND
WESTVIEW 21, CHRISTIAN 14
By Ramon Scott
EastCountySports.com
EL CAJON – The Christian High Patriots were denied a last-minute touchdown due to a penalty, then moments later, fumbled inside the 5-yard line, giving Westview High a 21-14 victory in a first-round San Diego Section Division 2 playoff game at El Cajon Valley High Friday night.
Eighth-seeded Christian (8-3) was kept off the scoreboard by the visiting Wolverines in the first half, taking a 14-0 lead into the locker room.
On the first play of the second quarter, Westview QB Beau Nelson passed to Zack Ratzlaff for a 14-yard score.
The Wolverines scored later in the quarter when Joe Bennett rushed for 9 yards to the end zone.
Christian scored in the third, as JESSE MATTHEWS caught an 8-yard pass from BRAD JEREMIAH with an acrobatic catch in the left front corner of the end zone to make it 14-7.
The Patriots tried a fake punt in the fourth quarter, but Westview stuffed the attempts. came up short on a fourth-quarter fake punt around midfield, the Wolverines struck.
Westview's Benjamin O'Brien scored on an 18-yard touchdown pass from Nelson, extending the lead to 21-7 with less than four minutes to go in the game.
Christian scored on a 4-yard touchdown pass from Jeremiah to Matthews, who made another spectacular back-shoulder style grab.
Jesse Matthews touchdown reception. 2:04 left and the score is now 21-14 Westview. Pats recover the onside kick. pic.twitter.com/T2q5sLBZvT

— Ramon Scott (@RamonScottPoker) November 11, 2017
Christian's BRYCE RIEPL recovered the onside kick and the Patriots marched into the red zone, before stumbling at the finish.
The Patriots recovered a fumble early in the first quarter and later picked off a Westview pass in the period.
The No. 9-seeded Wolverines improved to 7-4 and travel to face top-seeded Ramona next Friday.