Cougars climb over Eagles to first final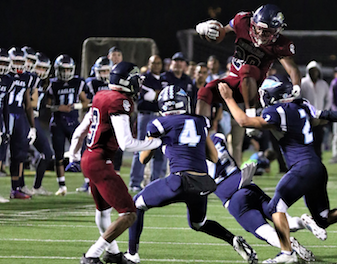 Steele Canyon's KENNETH WATSON goes above the Granite Hills defense Friday night. / Don De Mars Photography
2017 EAST COUNTY PREP FOOTBALL – SAN DIEGO CIF DIVISION 2 SEMIFINALS
STEELE CANYON COUGARS 28, GRANITE HILLS 27
By Jim Lindgren
Special to EastCountySports.com
EL CAJON – Since opening in 2002, Steele Canyon has been regarded as one of the best football programs in the San Diego Section.
Only one thing eluded the Cougars. They have never won, nor played for a section championship.
Seven times in the semifinals, Steele Canyon will finally get its chance to win a title next Saturday at Southwestern College.
The No. 7-seeded Cougars earned that right with a thrilling, nail-biting, 28-27 win over Granite Hills in front of a raucous crowd on both sides Friday night at Valley Stadium in the Division II semifinals.
"We finally made it," Steele Canyon coach SCOTT LONGERBONE said. "It's been a long time coming."
Steele Canyon caught a "break" when Granite Hills coach KELLAN COBBS decided to attempt a 2-point conversion play after JAKE SIEGFRIED's fourth touchdown run of the game pulled the Eagles within 28-27 with 4:27 to play.
Coaches and players aren't allowed beyond the 25-yard line when a play is in motion, so when Siegfried scored from 5 yards out, Cobbs had to decide whether to go for the potential winning points or boot the conversion for a tie game.
He knew what he wanted, another run play by Siegfried, to go for the lead and let his vaunted defense protect a win. The problem was Cobbs also wanted a timeout but couldn't race downfield quickly enough to alert his players or the officials.
Siegfried called his own number on the conversion attempt but a low snap left him off-balanced, and he was quickly met in the backfield by a swarm of Cougars for no gain.
SAMUEL CORTEZ put the hit on Siegfried and THOMAS MAROKI finished it off.
The win puts Steele Canyon (9-4) in the final against top-seeded Ramona (12-0), a 42-14 winner over Otay Ranch in the other semifinal.
Granite Hills (10-3) hasn't been to a championship game since losing to Morse in 1979 under legendary coach PAUL WARGO. The Eagles' only previous title game – with coach DWIGHT MORRIS – came in 1975, a loss to Oceanside's Herb Meyer's squad. Meyer is the all-time winningest coach in section history.
THOMAS FISHBURNE scored three rushing touchdowns for the Eagles on runs of 1, 2 and 1 yards.
His biggest play in passing for 171 yards was an 80-yard deep strike to JORDAN ANDERSON near the end of the first quarter that gave Steele the lead at 14-0 late the first quarter.
Fishburne, who always seems to play best under pressure, completed 9 of 15 passes with one interception by ETHEN BISHOP.
With his bushy, blonde hair-do pushed up with a head band, Fishburne said after the game, "We never gave up. You know, with this Granite Hills team, it's always a tight game with them.
"We realized that we didn't want this to be our last game. So we just came out here and did what we needed to do to win."
Said Longerbone of his multi-talented signal-caller, "Standard awesome game for Thomas. He stood up and carried us."
Siegfried felt similar thoughts and did his best to keep Granite Hills in the game.
Like Fishburne, a three-year starter, Siegfried rushed for 122 yards on 25 carries and scored all four touchdowns on runs of 9, 1, 23 and 5 yards. He also was 5 of 9 passing for 60 yards.
Granite Hills had another chance to go ahead after a big hit by TYLER GONZALEZ on Fishburne to give the Eagles the ball at their 32-yard line with 1:51 to play.
On the next play, Siegfried hit Gonzalez over the middle for a 26-yard gain. Siegfried then rushed for 6 yards but a false start penalty pushed the Eagles back to the Cougars' 41-yard line. An incomplete pass, followed by a 5-yard pickup by Siegfried gave the Eagles a fourth-and-4 at the 36-yard line, but Siegfired was stuffed for no gain by BRENNAN GARCIA with 50 seconds left.
"They just came up with a big play," Cobbs said. "They made one more big play than we did tonight.
"We were set up for a good drive late in the game, but they stuffed us.
"The kids battled hard, though. I'm very proud of our guys."
Said Longerbone, "Two big stops on those last series, that was huge."
After Granite scored to make it 28-27, Longerbone said he knew Cobbs was going to go for the 2-point conversion. "I thought they were going for two," Longerbone said. "Good for Kellan. Go for the win. My hat's off to them for giving us their best."
The last time these schools met in September, Granite Hills won 43-41 on a last-second TD pass from Siegfried to WILL BURTON.
"It came down to defense the last time," Fishburne said. "This time we wanted offense to put it together.
"Knowing how Granite Hills plays, I wasn't too surprised they went for it on the conversion at the end. They're a down and dirty, tough team. They always battle.
"I was just glad we were able to make a stop."
Cobbs said he would have no regrets going for the 2-point conversion instead of a chance to tie the game with 4:27 left.
"I thought we had worn them down with our running game," he said.
Siegfried rushed for a career-high 257 yards and four TDs in last week's quarterfinal win over Valley Center and finished this season with 1,397 rushing yards and 25 touchdowns while also passing for 1,104 yards.
Gonzalez added 92 yards on 10 carries.
ROBERT WHITEHEAD came up big for Steele with several big plays on defense for Steele Canyon in the first quarter including a tackle for loss on a big hit, then soon after caught and tripped up Gonzalez to save a potential touchdown and end his long 52-yard run.
Fishburne led the Cougars with 49 rushing yards.
More to the point, he led the Cougars to the brink of a long-sought championship game.
Division II – Semifinals
STEELE CANYON 28, GRANITE HILLS 27
Steele Canyon 14 0 14 0 – 28

Granite Hills  7 7  7 6 – 27
SC – Thomas Fishburne 1 run (John Watner kick)
SC – Jordan Anderson 80 pass from Thomas Fishburne 1 run (John Watner kick)
GH – Jake Siegfried 9 run (Justin McElligott kick)
GH – Jake Siegfried 1 run (Justin McElligott kick)
SC – Thomas Fishburne 2 run (John Watner kick)
GH – Jake Siegfried 23 run (Justin McElligott kick)
SC – Thomas Fishburne 1 run (John Watner kick)
GH – Jake Siegfried 5 run (run failed)