Scotties poised to accomplish mission
Updated: November 25, 2017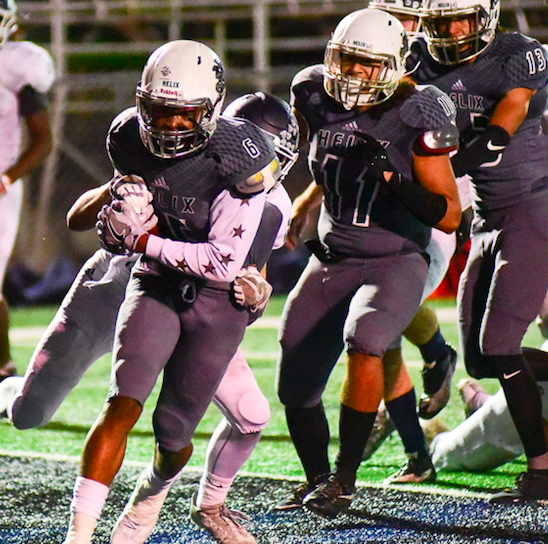 Isaac Taylor-Stuart scores a touchdown Friday night for Helix. / photo by Chris Parks scenesofyourlife.com
2017 EAST COUNTY PREP FOOTBALL PLAYOFFS – SAN DIEGO CIF OPEN DIVISION SEMIFINALS
HELIX HIGHLANDERS 62, SAN MARCOS 41
By Jim Lindgren
Special to EastCountySports.com
LA MESA – Ho hum!
Helix is quite used to leading, by say, 42 points at halftime. Then the Highlanders normally sub in their backups and gear up for a running clock in the second half.
But this was the playoffs – more specifically, the Open Division semifinals – and San Marcos is no slouch.
The No.-3 seeded Knights rallied for 35 points in the second half.
However, No. 2 Helix (11-1) is perhaps the most talented team in the San Diego Section. The Scotties reeled off over 600 yards total offense and ultimately posted in a 62-41 triumph over San Marcos (9-3) on Friday night at Jim Arnaiz Field.
"Our kids played great," Helix coach ROBBIE OWENS said. "But (San Marcos) didn't want the running clock. We just came out flat in the second half.
"I think our kids thought it was going to be a running clock and had the game in the bag."
Helix led 48-6 at halftime thanks to brilliant runs by ELELYON NOA and precision passing by CARSON BAKER.
I. Taylor-Stuart with a 12 yard rushing TD. Highlanders lead 42-3 pic.twitter.com/0terGML4tI

— Helix Athletics (@HelixScotties) November 25, 2017
Noa, a sophomore tailback listed at 5-feet-8 and 175 pounds who goes by the nickname "Fatto", rushed 35 times for a career-high of 302 yards, including touchdown runs of 3, 40, 1 and 48 yards.
"He had two other runs over 50 yards," Owens said. "He's 175 pounds, but he plays at 215. The way he runs the ball, he's very physical. With his speed and balance and body lean, he's always falling forward. He's always getting extra yards and moving the pile forward."
E. Noa with a 3 yard TD run to start the 2nd qtr. PAT is good. Highlanders lead 28-0 pic.twitter.com/lJTpmqVikv

— Helix Athletics (@HelixScotties) November 25, 2017
Baker, a three-year starting senior who is committed to UC Davis, completed 12 of 17 passes for 225 yards, including a 63-yard touchdown pass to RASHAD SCOTT on the Scotties' third play of the game.
"We started off really fast," Owens said. "We have a few set plays that we practice to open up with, and we were able to execute them pretty well. Sometimes you hit them quickly, and the other side gets a little shell-shocked."
Noa, Baker, Scott and the rest of the Helix regulars aren't used to playing in the fourth quarter – let alone the third – having outscored opponents 525-99 this season. Other than a 23-7 loss to Lancaster Paraclete in Week 2 this year, the Scotties had allowed only 35 points in its 11 wins.
The 41 points by San Marcos was the most Helix has allowed since a 45-21 loss to Otay Ranch in 2005, the Highlanders' last losing season. Yet, the Scotties still won by 21 on Friday.
San Marcos junior quarterback Miles Hastings was 22 of 35 passing for 410 yards and four touchdowns. It's been a long time – ever ? – since Helix has allowed that many yards passing.
But Hastings was also picked off twice by TYRECE PATANE and ISAAC TAYLOR-STUART and sacked three times by WILLIAM PAYNE, MICHAEL SHAWCROFT and JAGGER GILES.
Helix advances to play top-seeded Mission Hills (12-0) in the Open Division championship next Saturday (7 p.m.) at Southwestern College. It will be the Highlanders' fourth straight trip to the Open Division finals, having won one of those in 2015 against St. Augustine before losing to Mission Viejo in the state playoffs.
Mission Hills advanced with a 20-17 win over Torrey Pines.
"We're looking forward to it," Owens said. "They're probably the best passing offense in the county."
In Mission Hills' Jack Tuttle and Baker matching up, Owens said, "That tandem has proven themselves for several years. They're pretty special. I think they're two of the best quarterbacks in California.
"Baker only normally plays half of the game, maybe some in the third quarter, so his stats aren't quite as impressive as they could be."
Still, Baker eclipsed 2,000 yards for the season and now has 2,168 yards with 31 touchdowns. In only 10 games, Noa went over 1,000 yards and now has 1,278 with 11 scores.
Mission Hills and Helix have been ranked No. 1 and 2 nearly all season in the Union-Tribune weekly rankings. Now they get to settle things on the field.