These guys are underdogs?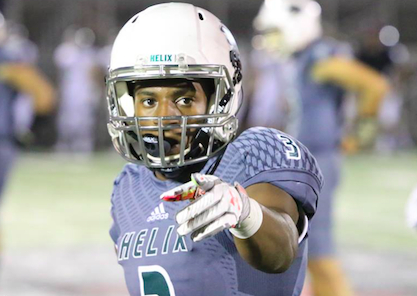 Helix senior receiver/return man ISAIAH WOODEN. / Antonio McIntyre - Country Boi Photography
2017 EAST COUNTY PREP FOOTBALL FEARLESS FORECASTER
SAN DIEGO CIF CHAMPIONSHIPS
By Ramon Scott
EastCountySports.com
EL CAJON – Underdogs.
All three of them.
The Helix Highlanders, Steele Canyon Cougars and Monte Vista Monarchs will take the field at Southwestern College this weekend – all facing undefeated teams – and each of them is expected to fall short of their ultimate goal of a San Diego CIF football championship.
The Monarchs will be first up for their upset bid when they meet the undefeated San Diego Cavers for the Division 4 title today at 3:30 p.m. at Devore Stadium.
On Saturday, the Cinderella Cougars find themselves matched up with the resurgent Ramona Bulldogs in a battle for the Division 2 crown, also at 3:30 p.m.
And in the marquee matchup of the weekend, the Highlanders, ranked second in the county, will face the section's top team – the Mission Hills Grizzlies – in the long-awaited, much-anticipated Open Division championship game with a state playoff berth on the line at 7 p.m.
Tickets are $15 for adults, $9 for students (ages 5-18), and $9 for seniors (60 and over); tickets can be purchased online at tikatap.com or cifsds.org
All three games will be streamed at NFHSNetwork.com/associations/cifsds.  The Open Division game is also on facebook.com/NFHSNetworkLive. These are subscription services and there is a charge.
(2) HELIX (11-1) vs. (1) MISSION HILLS (12-0) – Who are you calling an underdog?
The Highlanders wouldn't be seeded behind the Grizzlies, but a season-opening loss to Southern Section D5 finalist Lancaster Paraclete (12-1) has had Helix looking up to the new millennial North County power all season.
Still, computers rate undefeated Mission Hills just a notch better than the Scotties, likely on the basis of that game result.
Mission Hills boasts senior quarterback Jack Tuttle, who will attend the University of Utah, senior star wideout Chris Olave, who is reportedly considering Ohio State as his likely destination.
The duo leads an offense that is scoring more than 40 points per game.
However, Helix features possibly the best secondary in section history.
Senior corner ISAAC TAYLOR-STUART was named to the U.S. Army All-American Bowl this week.
His list of college choice looks like a cross between the current top 25 and the list of all-time national champions.
Taylor-Stuart could be leaning to traditional SEC power Alabama, who have three senior corners departing. But reportedly, USC and Georgia are both well in the mix, while Texas A&M may have dropped a notch on the star's scale.
Across from the All-American is future San Diego State Aztec RASHAD SCOTT, who has turned in a monster season and been the beneficiary of the opponent's challenge of trying to throw somewhere other than the direction of Taylor-Stuart.
While the Grizzlies have produced one of the most prolific offensive seasons in section history, it would seem that Helix has the high-quality parts to counter the attack.
"Any time you go into a game like this and they have the offensive weapons that they have, it is going to come down to defense and whose defense plays the best," Helix head coach ROBBIE OWENS said. "They are going to be a tough team to stop."
The Highlanders and senior quarterback CARSON BAKER have some unfinished business after losing the Open Division championship to rival Cathedral Catholic last December.
While it was expected that two-way stars Taylor-Stuart and Scott would be impact players for Baker, it has been senior ISAIAH WOODEN that has emerged as a go-to receiver underneath the threat that the other pair brings.
Wooden also is one of the nation's top punt return men.
And for balance.
How about the Highlanders' super sophomore ELELYON NOA, who rushed for over 300 yards last week as Helix scored 62 points in the section semifinals against top-five foe San Marcos.
It should pose enough problems for a Mission Hills defense which is certainly championship caliber, but may have shown some vulnerability over the last few games when matched up against more formidable competition.
Helix senior kicker/punter KEATON CHASE, who is ticketed for the University of Oregon on a baseball scholarship, but would look just as much the part of a college kicker at Autzen Stadium on Saturdays, missed last week's game with an injury.
Who are you calling an underdog? … HELIX, 34-31.
(7) STEELE CANYON (9-4) vs. (1) RAMONA (10-0) – Steele Canyon stars THOMAS FISHBURNE and MIKEL OLIVER are most deserving of this special championship run – the first ever for the Cougars – as SC has looked far better than their seven-seed and four-loss record in this postseason.
And even though this is Steele Canyon's first trip to the finals, the Cougars have had their share of postseason success with head coach SCOTT LONGERBONE.
Steele has looked so impressive at times and come up big in the clutch over the last three weeks that there is honestly little chance that the powerful Bulldogs would consider this a reduced task.
Fishburne is a make-it-happen quarterback with a big-play threat in senior JORDAN ANDERSON, who can stretch the field.
When that happens, it seems like the Cougars' running game, while inconsistent at times, can get on a roll. If not, usually Fish goes on the lam.
Meanwhile, Oliver, a defensive end who is headed to San Diego State, is no one-man gang on defense.
DARIN WALTON is one of the county's best pass rushers, while ROBERT WHITEHEAD has developed into a play-maker in the secondary.
The man to watch on Ramona is county Player of the Year candidate TRISTAN STACY.
The two-way star is a touchdown maker not only on offense, but has a highlight-reel of returns on special teams.
The Bulldogs, which have won four section championships, average nearly 40 points per game.
Most experts have Ramona by two touchdowns or more, but these Cougars have waited for this moment… RAMONA, 28-27.
(4) MONTE VISTA (7-5) vs. (2) SAN DIEGO (12-0) – The Monarchs are no stranger to the section championship game having been to four previous finals, winning 2A banners in 2003 and 1995.
In fact, Monte Vista coach RON HAMAMOTO, one of the section's all-time leaders in coaching victories, took his 2013 Monarch team to the D4 finals only to end up falling in a memorable – if for all the wrong reasons – loss to Sweetwater by a 7-0 final.
Ironically, that team finished 7-6 overall.
Against the section's feel-good story of the year in the Cavers, that type of score – while possible – shouldn't be expected.
While Monte Vista may be perceived as pedestrian with their run-first, run-second approach, that has hardly been the case as the season has progressed.
The Monarchs average 27 points per game primarily on the shoulders of junior star JAHMON MCCLENDON and his bevy of impressive blockers.
McClendon has matured so wonderfully on the football field in two years, that schools such as Washington State, Boston College and Colorado State could come calling to Spring Valley.
And Monte Vista has a little history of producing some very productive Division I rushers.
In typical Hamamoto fashion, the Monarchs have continued to expand the responsibilities of junior quarterback EMMIL HENDERSON as the season has gone on and he has responded in critical moments.
The Monarchs are always in a close game which could present a problem against the Earth, Wind and Fire attack of running backs Raiden Hunter and Jayden Wickware, along with three-way superstar Thomas Marcus.
But the Monarchs have several reasons why they can slow the Cavers' shining stars on offense and getaway with an upset in Chula Vista today.
Along with interior stars BLAKE and LOGAN SCHMIDT, the Monarchs' secondary has made big plays in the postseason.
While the Monarchs are coming off a confidence-building win on the road against top-seeded University City in a revenge game nonetheless, the San Diego Cavers have won four titles in their 101-year football history, but are having the program's most successful season since 1958.
That's a lot of pressure… MONTE VISTA, 28-27.