Griffs hold off Comets, await City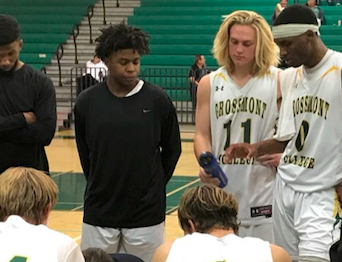 2017 GROSSMONT GRIFFINS BASKETBALL
By Dave Dickens
EastCountySports.com
EL CAJON (12-2- 2017) – The Palomar Comets have typically been a touch team with an outstanding coach.
The San Marcos visitors came into the chess match against Grossmont on Saturday at 5-3.
The Comets were very impressive as they rallied the night before from a 14-Point deficit at the half, ultimately defeating Santa Monica, 70-66.
"Palomar has a key player that is one of the best I've seen at this level," said Grossmont Head coach Doug Weber. "The real deal, 6-foot-8 MATT MEYERS, this kid is phenomenal. He is a true shooter."
Meyers scored 28 points the night before against Santa Monica, and the Griffin players and coaching staff took notes as they looked on to scout both Santa Monica and Palomar.
The (7-2) Griffins have been using the one game at a time theory.
"I just can't wait to play the Knights as they are the defending champs," said Grossmont's RONALD BLAIN last week after the Compton win.
Weber reminded the players before tip-off to focus on this task at hand and beat the Comets.
Grossmont and Palomar competed back and forth the whole evening.
The 1st half, the Griffins led at intermission 33-25.
For the Griffins, the bench players came through.
Especially the fact that 3 players off the bench were all in for a minimum of 15 minutes, and they combined for an impressive 18 points against a great defense.
Those off the bench included, DAVID WHEELER, CHRIS MOYER and KADE KYGAR.
"An interesting fact is that we are ranked number 8 for PFI and SD City a PFI of 2,"  Weber said about the Stat formula. "What that formula is I'm not sure."
BRYCE PARSONS led the scoring with 19 points, including 2 3-pointers made, 5-of-6 free throws made, 6 rebounds, 2 steals and was in the game, and never coming out.
JOSH MORAN also stepped up with 3 3-pointers made, 3-for-4 at the line, 7 rebounds, 3 assists and 12 points.
San Diego City Is ranked number 2, with a 12-2 record and will face Grossmont Sunday night at Grossmont 5 pm.
"What I love most about this group is they are not afraid to play any team," said Weber. "If we win this one tonight, great. If not as long as we compete and we are ready to beat them in January."
San Diego City is phenomenal, however the Griffins are scrappy and confident.