Knights down Griffs for tourney title
Updated: December 4, 2017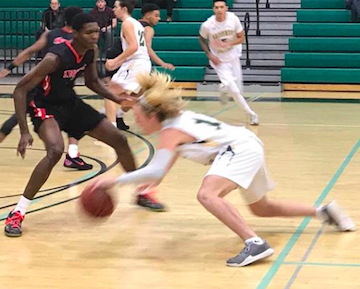 Bryce Parsons, of Grossmont, looks for space against San Diego City on Sunday night.
2017 GROSSMONT GRIFFINS MEN'S BASKETBALL
By Dave Dickens
EastCountySports.com
EL CAJON (12-3- 2017) – Grossmont College came into Sunday evening's Grossmont Invitational tournament championship as underdogs in their own gymnasium.
The Griffins thus far have played quite a few close games, but overall been very successful in their first 10 non-conference battles.
The teams they have played are overall tough squads.
Grossmont came into the championship game with an overall record of 8-3 and the  2nd-ranked San Diego City Knights came in with a record of 13-2.
Grossmont's home record is 3-1, while its road record is 2-1 and neutral court record is 3-1.
However, The Griffins did fall to the San Diego City Knights, 96-67.
The Griffins record is now 8-4 and San Diego City is 14-2.
The Knights are very quick and have talented starters, but a tremendous bench as well.
City had 4 players in big double digits by the end of the contest.
Grossmont definitely kept pace and held their own in the first half.
It seemed as if the Griffs were trying to move too quickly in every phase of the game just to keep up with the defending champs.
The score at the end of the 1st half was within striking distance for Grossmont, as it was San Diego City, 45-32.
Saturday evening, Griffins head coach DOUG WEBER mentioned that he had spoke to his players regarding this game versus City, and that is should be treated like every other game, so the thoughts of not being able to overcome the adversity the Knights might present.
In the first half that wasn't the case, as a matter of fact, the Griffins made a heck of a battle in the 1st half.
For the Knights, Wonder Smith was the star of the show for both halves, but in the first half, he had 11 total
points, with 2 3-pointers made, grabbed 2 rebounds and handed out 3 assists.
For the Griffins in the first half, JOSH MORAN had 9 total points, including a 3-pointer, made both his free throws, grabbed 2 rebounds and had 3 assists.
The Griffins felt very good about there chances going into the 2nd half.
The officiating was very lack luster, particularly in the 2nd half
With absurd calls, it seemed if maybe the Griffins were running low on fuel.
However, if there is one trait Weber instilled in his freshman and seven sophomores, it is to never give up.
Grossmont travels to Santa Barbara for a tournament on the 7th of December.
San Diego City will play Irvine Valley at the Saddleback tournament at 3 pm.