Matadors claim Classic title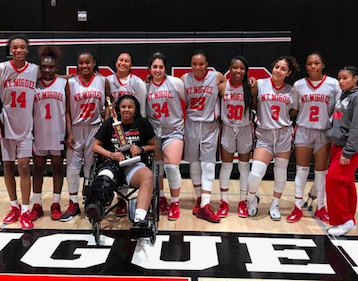 Mount Miguel Matadors, winners of the Matador Classic
2017 EAST COUNTY PREP GIRLS BASKETBALL
By Dave Dickens
EastCountySports.com
SPRING VALLEY (12-9-17) – Saturday evening's Matador Classic championship was full of entertainment.
Mount Miguel head coach Robbie Sandoval spoke regarding his opponent yesterday evening, stating that obviously the Vista Murrieta Broncos, coming in 8-0 before the evening, and ranked No. 8 in the Southern Section, would have to be defended well in particular.
That is exactly what the Lady Matadors did the entire game.
The host Lady Matadors were ranked No. 2 in the county rankings, and No. 28 in the state.
The Lady Matadors rankings may go up as once again they claimed the Matador Classic girls championship with the final score, 51-47, over a very competitive Vista Murrieta Broncos team.
SYLENA PETERSON, of Mount Miguel, was named the tournament's Most Valuable Player.
The visiting Broncos came out solid in the the first 8 minutes of the 1st quarter leading the home squad, 16-14.
It didn't take long for the Lady Matadors to come from behind to lead 23-20 at intermission, while
playing stellar defense, and holding the Broncos to only 4 offensive points in the second quarter.
Sandoval must have, as always, changed the mind set and reenergized this young, but extremely talented team.
The 3rd quarter of play saw the Lady Matadors up 36-28.
The fourth quarter of play was chalk full of fouls, free throws made and missed by both the Matadors and the
Broncos, not to mention a couple of missed shots.
That being said, the Lady Matadors played fantastic defense, got a couple of spectacular rebounds and the Broncos had a couple of key steals and block outs at the boards.
Mount Miguel was outscored in the 4th by Vista Murrieta, 19-15.
Ultimately, however, the free throws made after the Lady Matadors were fouled a few times in the last minute, were the key points for the win.
Also give credit to the phenomenal team effort on behalf of the Matador defense.
"I am very proud of our kids on how hard they played against such a talented team," said Sandoval. "Our kids played with a lot of composure, even though some injuries our kids fought through all of the adversity to show what type of character we have."
MONTE VISTA 59, SOUTHWEST (SD) 8 – The Monarchs won their first game of the season with a pair of shutout quarters at the Steele Canyon Tournament.
Monte Vista held the Raiders scoreless in the second and fourth quarters.
The Monarchs host Rock Academy on Tuesday at 4.