No. 2 Matadors win clash with Titans
Updated: December 12, 2017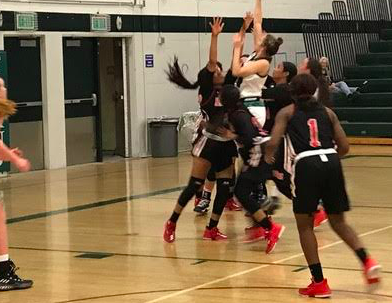 Mount Miguel and Poway battle on Monday night at the Titans' gym.
2017 EAST COUNTY PREP GIRLS BASKETBALL
By Dave Dickens
EastCountySports.com
POWAY (12-11-2017) – As always, whether on the road, neutral site or at home, the Mount Miguel girls basketball team is always well-coached, and mentally and physically ready to compete.
There are two keys to the continued success, a legendary pair of basketball coaching specialists.
Head coach ROBBIE SANDOVAL and his 3rd year assistant coach JERICA WILLIAMS.
The Lady Matadors have 18-straight league championships, 12 CIF championship appearances, and are 6-time CIF champions.
"The success of the 18 championship seasons has been our players' parent support along with the coaching staff, we are
family and we all look out for each other," Said Sandoval.
This evening was another test as the county No. 2-ranked Lady Matadors (7-0) went on the road once again to face the Titans of Poway (3-1) who came in ranked No. 7 in the SDCIF Division 1 girls rankings.
It took a few minutes to get this ball game going.
It was the visiting Lady Matadors who would get on the board first and at the end of the 1st quarter, as it was a closely-matched game.
However the Matadors led 10-5 at the end of the quarter .
Plenty of fouls from both squads in the 2nd quarter ended up leaving many approaches to the free throw line for both teams, as the game was very physical, offensively and defensively.
The score at the half read Mount Miguel 24 and Poway 9.
Mount Miguel was outscored 35-30 in the second half, however, the Lady Matadors hung on 54-44 as they dominated the first half.
The Lady Matadors are now 8-0.
Let it be known that their undefeated season has been without key standout, senior point guard LAILA SMITH, who is out with a torn ACL, which was a season-ending injury."
Laila has been our best player and point guard for the last three years, however she has been a tremendous help on the bench, sharing her knowledge with the other players which assists with their success," Sandoval said.
Junior LALLI GURROLA was huge tonight with 6 3-pointers, and freshman SYLENA PETERSON plays far beyond her young years.
"We still haven't developed that killer instinct," Sandoval said. "We had Poway down by 19 in the 4th quarter and let them back in the game, we half to learn to put teams away."
Mt Miguel 54, Poway 44
Mt Miguel 10, 14, 16, 14
Poway      5,  4, 17, 18
Corley 1-FG , 0/2 FT total 2pts; Bennett 1-FG , 1-3pointer , 3/4ft total 8pts; Douglas 2-FG, 3/5 FT total 7pts; Peterson 4-FG, 2-3pointers 2/4FT total 16pts; McBride 1/2 FT total 1 point; Gurrola 6-3pointers 2/2 FT total 20 pts
Stats
Corley 3 rebs, 4ast; Bennett 5rebs, 1ast; Douglas 7rebs, 3blks; Peterson 5rebs, 3ast , 1st; Nya Maga 2rebs; McBride 1reb, 1ast, 2stl; Gurrola 3ast, 3stls