Matadors have winning prescription
Updated: December 29, 2017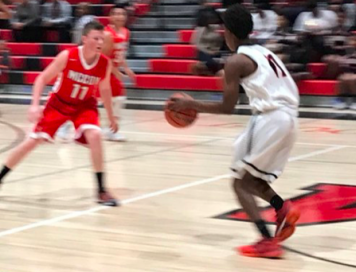 McCoy, of Medicine Hat, defends against Mount Miguel Thursday night.
2017 EAST COUNTY PREP BOYS BASKETBALL
By Dave Dickens
EastCountySports.com
SPRING VALLEY (12-28-17) – Mount Miguel continues to defeat its opponents by large point differentials.
The Matadors (12-1) took on an opponent from another country this evening, as they faced the McCoy High Colts from Medicine Hat in Alberta, Canada.
The visiting Colts lost to Point Loma 72-24 yesterday, to prepare for their shellacking this evening, 72-21, at the hands of the host Matadors.
Mount Miguel was off to the races quickly, with several rebounds, blocks, and steals in the 1st quarter alone.
The first score of the evening was a 3-pointer.
Mount Miguel lead 25-6 at the end of the 1st quarter.
Senior DARIN TRAYLOR, of Mount Miguel, paved the way with 21 points, and 4 3-pointers.
Matador junior MIKEECE DUNBAR had 14 points, including 4 3-pointers on the evening, as well, and MARQUISE EDWARDS added 11 points.
"We are 12-1, and I love this squad, they play hard and fast," said Matador head coach JAY ROWLETT. "This is the best team I have coached since we won CIF in 2010.
"We still have plenty of work to do though."
The Matadors next opponent will be Point Loma (5-7) at Mount Miguel at 8:00 pm in the  continuation of the Aztec Holiday Classic Tournament.
The Matadors will be licking their chops for this contest as well.