East County Sports Hoops Top 10 – January 1, 2018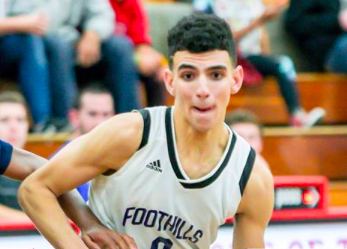 Foothills Christian sophomore YASSINE GHARRAM / photo by Tony Guerrero -Decisive Moments Photo
Mission Bay – Strength of schedule is always a positive for teams looking to advance to the Open Division down the line. Wins over Foothills Christian, Bishop O'Dowd who was ranked in California's top five to start the season and St. Edwards who came to Torrey Pines ranked number nine in Ohio have the Bucs on top.
Foothills Christian – Again strength of schedule prevails. The Knights downed two state top-10 teams in Westchester and Fairfax, in addition to Shareef O'Neal and Crossroads
Saint Augustine – By way of a head to head over Torrey Pines, the Saintsmen land at number 3. Saints also took on the National Division at Torrey Pines
Torrey Pines – Not playing in the upper tier of their own tournament hurts, but wins over Vista, San Marcos, La Jolla Country Day, Poway and Santa Fe Christian show the Falcons know how to win big games in San Diego.
Vista – Three straight losses don't look good for the Panthers, but each came in a loaded field of The Classic at Damien. Count on Vista to bounce back immediately.
San Marcos – The Knights probably had the most fun over Christmas break. The Knights were champions of their division at Walt Disney World's Wide World of Sports complex in Florida. The downside is that half of their opponents still have losing records. January 23rd will be the next time we get to see the Knights take on a local top-10 in Vista.
La Jolla Country Day – A big win over Mission Bay to open the Torrey Pines Holiday Classic will have the Torrey's on everyone's radar if they weren't already.
Mater Dei Catholic – The Crusaders should collect W's throughout the rest of their schedule save for one particular date. A January 13th showdown with Rancho Christian will really tell us how high Mater Dei can go.
Montgomery – A big win over Mount Miguel in the Championship game of the Aztec Holiday Classic and people are taking note of the speedy Aztecs.
Mount Miguel – The Matadors have had an impressive run, falling just a game shy of a Christmas tournament title. Mount Miguel can't afford any losses in league if they want to compete with the big dogs and Helix is waiting in the wings for a January 4th showdown of two top East County squads.