Sultans topple Sultan-less Norsemen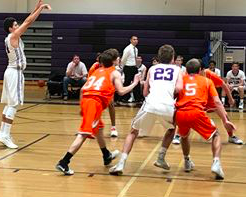 Santana at the free throw line Thursday night against Valhalla.
2017 EAST COUNTY PREP BOYS BASKETBALL
By Adam Paul
EastCountySports.com
SANTANA 58, VALHALLA 55
In the second game of the New Year, the Sultans finally broke into the win column as they were able to come back and down the Valhalla Norsemen in a Santana New Year's Classic contest.
Things right away in the first quarter looked to go Valhalla's way despite not having their star player Ramzi Sultan, who had to sit out due to being ejected the last contest after receiving two technical fouls.
Both Ty Schimke and Tre Wims each scored 7 points in the quarter to lead the Norsemen as Valhalla would use both players outputs to help themselves to finish the quarter on a 9-0 run to take a 22-13 lead after the score was tied at 13-13 with about 2 minutes remaining.
Valhalla in the second quarter made things look easy and possibly make the contest a route as they continued their run all the way to 12-0 to lead 25-13. However, the Sultans finally got their act together as they were able to knock down some shots and hold defensively to close within 25-19.
Another counter by Valhalla would push the score again to double digits at 29-19 but Santana would knock down a crucial three to pull within 29-22 with a little over three minutes remaining in the half. Another counter by the Sultans as they were able to knock down a couple more shots pulled them within 32-26 but Valhalla would score just before the half ended to take a 34-26 lead at intermission.
What a difference a half makes as Santana came out on fire to start the second half as they roared to a 10-1 to pull within 37-34. The Sultans after trading possessions would finally take their first lead of the contest at 39-38.with about 3:30 remaining and would eventually outscore Valhalla 14-4 to lead 40-38 after three periods of play.
Both squads in the final period would go back and forth and it wouldn't be until a little over a minute in which the Sultans used a 6-0 run to take a 56-50 lead and eventually lead 58-50 with a minute remaining. However, the Norsemen despite being down made things interesting as they nailed a couple baskets to pull within three points but couldn't get any further.
Scoring wise for the Norsemen, Wims scored 18 points including a couple key baskets in the fourth while Schimke did all his damage in the first half en route to 19 points.
For the Sultans, Nick Berhalter went crazy in the fourth quarter as he scored 15 of his team-high 23 points while teammate Andrew Hitchcock scored 11 points on the night.