Griffs edge Mesa in conference opener
Updated: January 13, 2018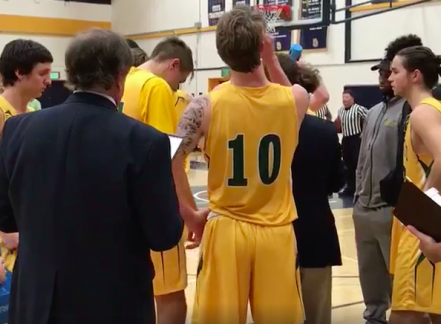 Grossmont during a time out on Friday evening.
2018 GROSSMONT GRIFFINS BASKETBALL
By Dave Dickens
EastCountySports.com
SAN DIEGO (1-12- 18) – It was forecasted to be a competitive, close contest to open up Pacific Coast South Conference play for the tenth-ranked Grossmont Griffins at San Diego Mesa College on Friday evening.
On hand to watch Mesa star player, 6'9" 230-pound sophomore center Armstrong Ojunkwu were Loyola Marymount scouts, however, also on hand to watch Grossmont College was a Hawaii Pacific scout, who happened to be in town for tomorrow's game where former Griffin SPENCER VERING will be playing in at Point Loma Nazarene University at 4 p.m.
The Grossmont defense played tough in the first half, and the offense was good, however, the Griffins missed quite a few shots that they would typically make.
The Olympians with their big center were in the lead at the half, 28-23, however, the Griffins went on a bit of a run at the end of the first as they were behind almost 10 with 3 minutes to play in the first half.
Grossmont came back after intermission with a better understanding on how to penetrate inside.
"When we observed the Mesa film, we noticed they are somewhat similar to what we have done with tempo press and clock management," said Grossmont head coach DOUG WEBER. "We noticed they like to play 2-2- 1. The players were telling me at the half it was just not happening with Armstrong in the middle. "
The Grossmont coaching staff and players realized after the first half, Mesa switched from a 2-3 zone defense to a man-to-man.
"After we noticed the defensive change, I switched CHRIS MOYER out with RONALD BLAIN," Weber continued.
Freshman JOSH BURTON had a beautiful 3-pointer in the second half for Grossmont, as he saw the opportunity, didn't hesitate, took the shot and… voila, a perfect three, and had 5 points on the night off the bench.
Moyer had only 2 total points but played fantastic defense.
"We started off a little sluggish, going down a few points in the first few minutes of the first half, while taking a while to get our first bucket," said Moyer. "As the game went on, however, we began to get in our rhythm.
"Armstrong is a big, solid, player. He was also our biggest focus, to deny him the ball and limit his ability of second chances. So I did the best I could doing exactly that, and found success, as did other team members."
It remained a close one until the last tick, however, as Weber played it very wise to put his best outside 3-point shooters in with under 6 minutes left to play, and found some success.
The Griffins came out on top, 65-63, for a 1-0 start in conference play, as San Diego Mesa fell to 0-1.
BRYCE PARSONS was the leading scorer on the evening with 19 total points, and 3-for-4 at the FT line.
JOSH MORAN had 14 points, with 2 3-pointers.
Grossmont (12-6) will play on Wednesday, the 17th at Grossmont versus San Diego City (20-2; 1- 0) 7:00 p.m. in what truly is the game of the year in the regular season.
Joseph Riley made six three pointers and had 18 points and Wonder Smith added 14 points, 7 rebounds, and 4 assists as top ranked San Diego won their 13th-straight game and opened up conference with a 123-37 win over Cuyamaca (0-14, 0-1). Saiyeed Mershon had 16 points and 8 rebounds in the loss for the Coyotes.
San Diego Mesa (3-13) will play on Wednesday, the 17th at San Diego Mesa versus Imperial Valley (2-14; 0-1) at 5:00 p.m.