Cougars shock from start-to-finish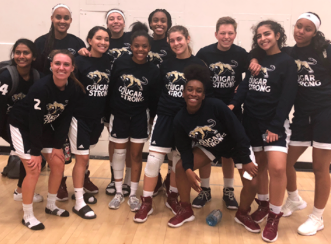 The Steele Canyon Cougars following their road win at San Pasqual
2018 EAST COUNTY PREP GIRLS BASKETBALL
EastCountySports.com staff report
SAN PASQUAL – The San Pasqual Golden Eagles never saw this coming.
The 12th-seeded Steele Canyon Cougars came with an aggressive press and led from start-to-finish in knocking off the fifth-seeded hosts in a San Diego CIF Division III playoff game Wednesday night.
The Cougars advance to the quarterfinals where they will travel to face fourth-seeded Otay Ranch on Saturday.
The Cougars employed a matchup zone, forcing San Pasqual to play inside.
Steele Canyon led 14-7 after the first quarter.
Sophomore sensation KHYLAYA BRANDY scored 19 points, including 12 in the first half, as the Cougars led 24-15 at halftime.
"We just wanted to go out and play as a team," Brandy said. "My role on the team is as one of our scorers.
"I feel if we play how we did tonight, Otay will be a good matchup for us."
Senior ELIZABETH BOTT scored 10 points for Steele Canyon.
"It was an amazing game," Bott said. "The reason we got the win was we played as a unit. Coach (PETER RUIZ) did a great job of scouting out their team and practicing against how they would play us.
"I am so proud to be playing with this team and we're not done yet. We've still got work to do."
Brandy and Bott combined for 12 points in the third quarter, as the Cougars extended the lead to 42-29 entering the final stanza.
Freshman MAHKAYLAH CLINE had eight points for Steele, while senior teammate REAGAN JORDAN added seven.
While the Cougars feel they are underrated in their computerized seeding, their 16-8 overall record has to be respected at this point.
"These ladies are pumped beating the No. 5 seed," Ruiz said. "(San Pasqual) was shell-shocked. We pressed them and that was the difference in the game. Hats off to our senior captains keeping the team focused.
"I know Otay will be better at handling the press."