Nordling gives life to Patriots' playoff win
Updated: February 22, 2018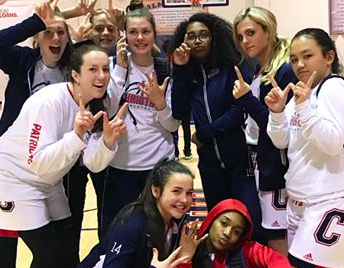 Christian High players celebrate following their home victory over Holtville on Wednesday night.
2018 EAST COUNTY PREP GIRLS BASKETBALL
EastCountySports.com staff report
EL CAJON – The Christian High girls' basketball team shutout visiting Holtville in the second quarter on the way to a 43-22 San Diego CIF Division III playoff game at Ryan Athletic Center on Tuesday night.
The second-seeded Patriots weren't necessarily sharp to open the game, but after ZOE NORDLING scored Christian's first six points, they still led just 11-8 with two minutes left in the first quarter.
"The first quarter was literally a fiasco for us," Christian High head coach VICKIE CARRINGTON said. "Zoe Nordling played fantastic from start to finish. I loved her game."
Christian freshman KRISTEN WILLIAMS had a steal in the first quarter, one of her three on the night, which ended up in a nice basket by Nordling on an assist from SIMONE JAMES.
#5 Kristin Williams to the basket…15-8!!! pic.twitter.com/EyeBmOQbYM

— CUSSDPatriots (@CUSSDPatriots) February 22, 2018
Although the Pats shutout the 15th-seeded Vikings over the second eight minutes, Christian's offense was just making a passing grade with 25 points at intermission.
"Holtville gave it their all, but they had trouble handling the ball and making passes to their big girls and shooters," Carrington said. "But we were also having our own issues, turning the ball over, not rebounding, not knowing our play calls offensively and defensively."
James finished with a team-high 12 points for Christian (19-9), which advances to face tenth-seeded Mission Vista (11-17) on Saturday in a quarterfinal game at Ryan Center.
Nordling scored nine of her 11 points in the first half.
James had a layup to make it 30-9 in the third quarter. She had seven points in the third and five rebounds on the night.
Christian's RAELYN MUECA hit a three-pointer in the third quarter.
#15 Mailani Aguila for 3 for the last basket of the 1st half…25-9 PATRIOTS!!! pic.twitter.com/TCn8HlF0zf

— CUSSDPatriots (@CUSSDPatriots) February 22, 2018
"Holtville did a good job staying on Kristin Williams on the perimeter," Carrington said. "When Kristin was open they didn't look to hit her, so she never had an opportunity to shoot, which can't happen."
Christian junior MAILONI AGUILA had a hot stretch in the second quarter, as her three-pointer gave Christian the 25-9 lead at intermission. Moments earlier had a super jumper to make it 22-9.
#30 Cipriana Hudson with the rebound basket!!! pic.twitter.com/lHN3ZiJKOB

— CUSSDPatriots (@CUSSDPatriots) February 22, 2018
Senior HAYLEY ROBINSON led Christian with eight rebounds, while Nordling grabbed seven boards and handed out four assists.
"Overall, we played well enough to win, but we didn't play our game," Carrington said. "We played poorly as a unit. Not our best effort.
"I'm grateful to be moving on to the next round against Mission Vista."