Patriots hoist first CIF title in 23 years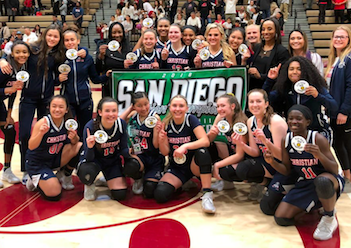 2018 San Diego CIF Division III Champion Christian Patriots
2018 EAST COUNTY PREP GIRLS BASKETBALL
CHRISTIAN LADY PATRIOTS win the D3 CIF Championship!!! pic.twitter.com/QVNcmySjap

— CUSSDPatriots (@CUSSDPatriots) March 4, 2018
By Ramon Scott
EastCountySports.com
SAN MARCOS – The Christian High Patriots won a San Diego CIF championship Saturday night for the first time in 23 years Saturday night, but it would seem the best is still yet to come.
Freshman KRISTEN WILLIAMS hit eight three-point field goals and sophomore SIMONE JAMES added 19 points to lead the second-seeded Patriots to a 67-48 victory over top-seeded Escondido Adventist on Saturday night at Mission Hills High.
#33 Simone James with the rebound and basket to give the PATRIOTS back the lead 27-26.!!! pic.twitter.com/WFYkm2TDPY

— CUSSDPatriots (@CUSSDPatriots) March 4, 2018
"We believed in ourselves, coaches and God to take this win," said Williams following the win. "We played great on defense and having all our teammates contribute to get here was extremely important. All glory to God. None of this would be possible with out him,"
Christian (22-9) trailed early but Williams knocked down a threes in the opening couple of minutes, helping Christian a 12-11 edge.
Her second three of the quarter put CHS back on top, 18-17, in a frenetic pace throughout most of the first half.
Escondido Adventist, however, would eventually take a 26-19 lead in the second quarter.
"I think we just needed to calm the game down and show our true game," said Williams, who also grabbed 14 rebounds.
After a long scoring drought by both sides, the Patriots started to convert and eventually closed the gap
James scored a basket to give Christian a 27-26 lead late in the first half.
In the second half, James had a field goal that stretched the Patriot lead to 33-28, then she went coast-to-coast for a score.
After that, Williams got hot from downtown and made three three-pointers in the third quarter, one with time running down on the shot clock, and another, tossing the last one in from several feet beyond the three-point arc and with plenty of time on the shot clock.
#5 Kristin Williams beats the shot clock for 3…53-40!!! pic.twitter.com/Z8P7S54Uji

— CUSSDPatriots (@CUSSDPatriots) March 4, 2018
"I think we got our acts back together after the 2nd half," Williams said. "We needed to have more rebounds and box out better. We played with a lot of energy but we needed to act like it was just another game."
Sophomore HANNAH RICHARDSON added eight points for the Lady Patriots, including the game-opening three.
#20 Hannah Richardson works to put 2 on the board…58-47!!! pic.twitter.com/tRImc89uKa

— CUSSDPatriots (@CUSSDPatriots) March 4, 2018
Christian next is headed for a home game in the state playoffs.
"We wanted to win for God, our teammates and school," Williams said. "I think we just need to rest now and get ready for state."