Carter, Larsen lead Patriots to CIF upset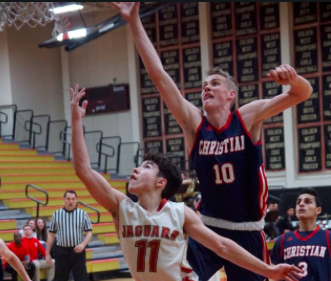 CHRISTIAN HIGH'S JACKSON LARSEN GOES UP AGAINST SEGERSTROM. / Mark Bausmann - SoCal Sidelines
CHRISTIAN HIGH continues in state playoffs after 69-60 victory!!! GO PATRIOTS!!! pic.twitter.com/CBGsrimmCb

— CUSSDPatriots (@CUSSDPatriots) March 8, 2018
2018 EAST COUNTY PREP BOYS BASKETBALL
CIF STATE DIVISION 4 PLAYOFFS
EastCountySports.com staff report
SANTA ANA – The Christian Patriots looked faster and bigger against host Segerstrom High on Wednesday night, pulling off a 69-60 upset in the CIF State Division 4 playoffs.
Senior NASHOM CARTER scored 28 points for Christian, including a key three-pointer followed by a layup midway through the fourth quarter that gave the Patriots a 56-55 lead.
A couple of minutes earlier, Carter's basket and foul conversion tied the game at 49-apiece.
The Patriots advance to the regional quarterfinals where they will face fellow East County foe Mount Miguel in Spring Valley on Saturday night in Spring Valley.
Christian High junior JACKSON LARSEN was dominant, as well, particularly in the first half.
Larsen came out hot and scored six points in the opening minutes of the game.
He opened the scoring with a running floater and a 2-0 lead.
After the Jaguars took a brief 5-2 lead, Larson answered with a close bucket on a lob from Carter.
#10 Jackson Larsen with the hook shot…8-7!!! pic.twitter.com/Aq7zNnP3ma

— CUSSDPatriots (@CUSSDPatriots) March 8, 2018
After Segerstrom led 16-14 after one quarter, the Patriots, behind Larsen, looked quicker than their opponent and appeared sharp after going into the locker room with a 34-28 halftime lead.
#10 Jackson Larsen to the basket…16-18!!! pic.twitter.com/4gedZHpUkK

— CUSSDPatriots (@CUSSDPatriots) March 8, 2018
The Patriots led 38-32 with 4:55 to go in the third quarter, then held the advantage 45-42 at the end of three quarters.
Carter knocked down a pair of free throws with 43.1 seconds left in the game. He also had a pair of free throws with 3:42 left in the game, which put Christian High up 58-55.
In the second quarter, Carter drove the lane and put in a left-handed layup while drawing a foul. He converted the free throw to give Christian a 21-18 lead.
Carter had a coast-to-coast basket that gave Christian a 23-18 lead.
Moments later, Larsen made a three-pointer and the Pats were ahead 26-18.
Carter assisted once again on a Larsen bucket that extended Christian's lead to 30-20 with 2:40 to go before halftime.
In the third quarter, Carter had an offensive rebound and basket that had Christian ahead 40-37.
Junior CHRISTIAN WEST went up over Segerstrom players for an offensive rebound and basket to give the Patriots a 62-58 lead late in the contest.
Christian High senior DOMINIC SAFARTA drove by his man and scored on a layup in the third quarter to make it 42-37 Pats.
Safarta knocked down a pair of free throws at the end of the first quarter, as well.
Larsen put down the exclamation point with a dunk that put the Patriots up by eight late.