Matadors score big upset in state playoff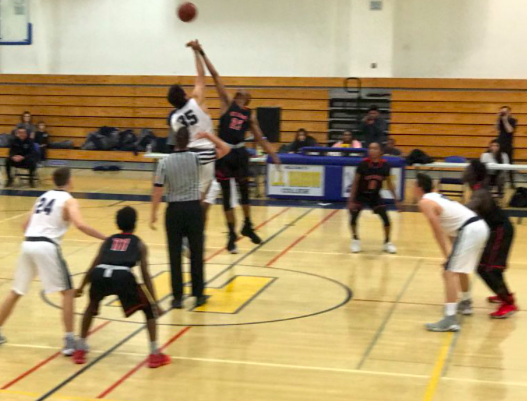 Mount Miguel tips off against Rolling Hills Prep on Wednesday night.
2018 EAST COUNTY PREP BASKETBALL
CIF STATE DIVISION D4 PLAYOFFS
EastCountySports.com staff report
WILMINGTON – The Mount Miguel Matadors and Christian Patriots scored big first-round upsets on Wednesday night and advanced to face each other in the regional quarterfinals of the CIF State Division IV playoffs on Saturday at 6 p.m. in Spring Valley.
The Matadors will host the contest as the No. 12 overall seed as their 57-52 road victory at L.A. Harbor College over Rolling Hills Prep, of San Pedro, is considered a major upset.
The 13th-seeded Patriots, meanwhile, pulled off a road victory of their own, knocking off Segerstrom, of Santa Ana.
In Mount Miguel's win, MARQUISE EDWARDS gave the Matadors a one-point lead with under 30 seconds to play.
The Matadors' DARON TRAYLOR and Edwards then both sank a pair of free throws after Rolling Hills Prep was forced to foul.
As a result, the Matadors and Patriots will meet at the Matadome for a berth in the Southern California regional semifinals next week.
Traylor's free throws gave Mount Miguel a 55-52 lead.
Rolling Hills couldn't tie the game on its ensuing possession.
Mount Miguel shot the ball extremely well in the third quarter. The Matadors kept hitting their shots, but Rolling Hills continued to match them, as Mount Miguel led 45-41 at the end of three periods.
The Matadors led 23-18 in the first half.
Traylor hit a three-pointer with one second left in the first half to give Mount Miguel a 31-28 lead at intermission.
The Matadors had to overcome the presence of Rolling Hills Prep's J.T. Tan, who had 22 points and 12 rebounds.
Tan made a tough lay-up in traffic to give Rolling Hills Prep a 52-51 lead with 28 seconds left.
Just over a minute earlier, Mount Miguel came with a double team on Tan, forcing a turnover, as RHP held a 50-49 lead.
Tan had hit a pair of foul shots to give Rolling Hills a 48-47 lead with 4:16 left in the game.