ROUNDUP: Scotties, Sultans in wacky tie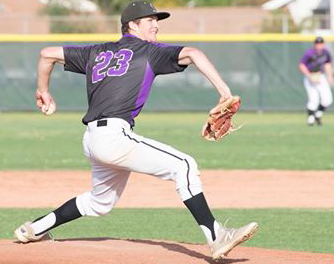 Santana junior BENTON HART / photo by Tammy Ryan - TRYAN PHOTOGRAPHY
2018 EAST COUNTY PREP BASEBALL
EastCountySports.com staff report
LA MESA – The most thrilling game on the opening day of the Grossmont League season still isn't over.
The visiting Santana Sultans and BRANDON GLOWACKI gave the sixth-ranked Helix Highlanders all they could handle until dusk settled in after nine innings with the score tied at 7-apiece.
The game could be resumed likely before one of the teams' remaining two Grossmont Hills League contests this season. The teams meet again on Thursday in Santee. The second meeting is also in Santee later in the season. They also could play on another day at Helix.
"(Santana) are really well coached and earned everything," Helix head coach COLE HOLLAND said. "We as a team have to realize we have to play good baseball to win. It's East County, throw the records out, you have to play good baseball to win."
Glowacki, a junior, went 4-for-5 and belted two home runs for Santana, including a two-run go-ahead shot in the top of the ninth inning, as the Sultans never trailed against the heavily-favored Highlanders. currently has four RBI in the game.
"I felt good at the plate," Glowacki said. "I was seeing the ball well today.
"Our whole team worked hard and prepared for this game with a good scouting report from our coaches. This ultimately helped with my success."
Glowacki hit his first homer of the game in the top of the third and Santana put up a picket fence in the first four frames, scoring one run in each inning for a 4-0 lead. Glowacki currently has four RBI in the game.
Helix sophomore ALONZO RICHARDSON hit a home run for the Highlanders in the fifth inning to tie the game at 5-all.
Richardson also capped a four-run rally to tie the game in the fourth inning with a two-run double to left.
Junior CARLOS OQUITA drove in the Highlander' first run of the frame with a double to score senior ZACK OWENS (single).
Santana regained the lead on a sacrifice fly by DAVIN BURROWS.
Helix senior BRANDON PETERSON drove in Richardson in the bottom of the ninth to make it a 7-6 affair with darkness approaching.
"I wasn't trying to do anything special just trying to get on base and help my team get on the board against a competitive team," said Peterson, who also pitched an inning. "I thought I contributed well at the plate and on the mound."
Helix senior ERICK SMELKO reached on an error in the ninth and scored the tying run on a groundout by AUSTIN KRETSCHMAR.
Helix senior ZACK OWENS had two hits, a walk, and scored a run.
Santana senior JAKE SARGENT had two hits and drove in a run. Santana had 13 hits overall.
Freshman TYLER GLOWACKI had two hits and scored a run for the Sultans.
Sultan junior BEN HART started and went six innings, allowing two earned runs.
"I think it definitely shows our team attitude of us going out and competing on every pitch of every game no matter the opponent," Hart said. "Helix has a lot of great talent but we definitely held our own today and will have a chance later in the year to finish the game we had to stop today.
"We're excited to see what we can do in league play because we know we can compete with any team in this league and we showed that today."
Helix sophomore JORDON THOMPSON pitched 2 2/3 innings of relief, allowing no runs and striking out four. He drove in a run and scored a run, as well.
"I was just trying to pound the zone and get outs for my team to keep us in the game and give the team a chance to win," Thompson said. "At the plate, i was just trying to have good consistent at-bats that would be productive and beneficial for the team."
Kretschmar pitched a scoreless ninth, striking out two.
STEELE CANYON 3, VALHALLA 2 – Steele Canyon senior left-hander TREVOR BACK held on for another complete-game effort, holding on for the victory over the charging Norsemen in the seventh inning.
Back coaxed a dribbler to first to end the game after the Norsemen had scored a pair of runs and had the tying run at third with one out.
Back allowed just five hits, striking out five and walking one. It was already his fourth complete game of the season.
Nearly as strong on the mound was Valhalla senior TANNER SMITH, who toiled six frames, allowing five hits and two earned runs.
"It was a great battle between two really good starting pitchers," Steele Canyon coach JESSE EVANS said. "Trevor Back gave us another incredible start. We got the hits today when we needed them. I'm really proud of our guys right now. It was a great team effort."
Talk about efficient.
Tuesday's effort was just his first complete-game effort where his pitch count topped 80 pitches. His first three complete games, he threw less than 80 pitches.
Cougar senior JOSH ESQUIBEL drove in a run in the bottom of the sixth inning with a double past the diving third baseman down the left field line to brink home MATTHEW BRINKMAN, as SC added two runs to their slim 1-0 lead, which it had held since the bottom of the second inning.
"It was a great win and a great start to the season," said Steele Canyon captain LUKE ARIAS. "I think this game will set the tone for the rest of our season. We had been working on things leading up to this league opener and it showed today. It was a great game all around from
"We had been working on things leading up to this league opener and it showed today. It was a great game all around from the pitching to the fielding and at the plate. I'm proud of the way my guys played today."
Smith tripled home a pair of runs with one out to make it a 3-2 ballgame in the top of the seventh.
Valhalla sophomore JOSEPH INGRASSIA singled to lead off the top of the seventh, coming around to score on the hit along with junior CAMERON ZAMUDIO (HBP).
Second-inning hits by BILLY TELLOUS, who led off with a double, and RICHIE PEDRIN, who had a one-out single, led the Cougars' first run.
"The coaches and the team wanted to start league off with a full tank and get the first win out of the way," Tellous said. "I think that my team definitely had my back today.
"'Bubs' (Pedrin) driving me in after my double and we played solid ball, all aspects of the game, no errors, getting bunts down, Trevor back throwing a 'CG' and that's how you get a win."
Valhalla senior right field COLE HOWARD had a diving catch in the fifth inning.
AARON TAYLOR had a double for Steele Canyon (6-8), which will face El Cajon Valley (0-1 GVL) on Saturday in a Grossmont Valley League doubleheader starting at 11 a.m.
The Norsemen will be matched up with Mount Miguel (0-1 GVL) in their Saturday Valley League doubleheader, also at 11.
MONTE VISTA 4, MOUNT MIGUEL 1 – First cousins IVAN PLAZOLA, of Monte Vista, and NICO CAMACHO, of Mount Miguel, squared off in a well-pitched Grossmont Valley League opener.
Four Monarchs combined on a six-hitter and senior DIEGO SANDOVAL drove in a pair of runs in the top of the first inning for Monte Vista (10-5).
Plazola, a senior, allowed three hits and one walk over four innings, striking out two,
"I used all three pitches today effectively fastball, curveball, slider," Plazola said. "My success has come from all the hard work we have been doing in practice."
Monte Vista then got three innings of relief from the bullpen, as ANDREW SAVOY pitched a scoreless inning and ANDY CANEDO picked up the save, striking out two to get out of a two-out jam with the tying run at the plate.
"I feel great," Canedo said. "Just getting better every day as a batter and a pitcher and always looking to find ways to improve every day."
Monte Vista junior DERRICK WILEY went 2-for-4 with an RBI and a double. 
"The coaches told us that they were going to pitch us away so I had to be patient each at-bat," said Wiley, who drove in a run with a single in the fifth. "Victories as a team builds confidence and we try to carry that confidence to the next game."
Plazola also doubled and scored a run.
Junior JON GULLEY had two hits and scored twice for Monte Vista.
Camacho, a junior, struck out five over five innings.
"They threw their No. 1 and he is pretty good," Monte Vista coach CRAIG NEU said. "It was a clean game. We had ten hits but left several guys on base."
Mount Miguel sophomore JULIUS HARRIS stole home in the sixth inning with one out.
The Matadors RUBEN PRECIADO-TEJEDA led off the bottom of the seventh with a single, then junior AUSTIN ORTIZ drew a two-out walk to build some drama.
"We simply were outhit today," Mount Miguel coach FRANK COIT said. "They got four more hits than we did (10-6), and several of them were at the right time and scored runs. We squared up a lot of balls today, but many were hit right at a fielder.
"Our kids continue to bust their butts for every out, and all seven innings, competing hard until the end. What more can a Coach ask for? It just has not translated to wins yet, it will. Can't say when, but I have to believe it will be sooner rather than later."
Monte Vista is up against West Hills (1-0 GVL) in a twin-bill on Saturday at 11 in Santee.
GROSSMONT 17, EL CAPITAN 9 – The Vaqueros had their home faithful believing a big upset could be brewing with a 6-4 lead over the eighth-ranked Foothills in the Grossmont Hills League opener.
But the Hillers bombed the ball all over the yard for 13 runs over the final three frames and currently are alone in first place in the league after one day.
Grossmont's CHRIS GIOVENGO hit a three-run home run in the top of the fifth inning in which Grossmont (9-5-1) took a 7-6 lead.
The blast seemed to send the message the time was up for the Vaqueros despite the great threat El Cap presented over the first four innings.
Giovengo, a senior, started the game, and went three innings, allowing one earned run.
"The game plan is to win every inning so no matter whether we were up or behind we planned on battling back," Giovengo said. "This group really thrives in the fight back against teams and that's what we did today. Overall, the team battled today and we got the win."
El Capitan (4-10) scored on base hits in the first inning by AUSTIN BELL (double) and ANTHONY BENEDETTO (single).
The Foothillers took a 3-2 lead in the top of the third on a sacrifice fly by JESSE GARCIA. Garcia, the home run leader in the East County, walked three times.
However, the Vaqueros tied the game in the bottom of the inning on a lead triple by HUNTER MARKLE, who scored on a groundout. Markle later tied the game at 4-all with a single to left, driving in ANTONIO OLIVIERI (single).
El Capitan took a 6-4 lead in the bottom of the fourth as a result of a pair of Grossmont errors.
"They scored and we did our best to beat them every inning," Giovengo said. "We try not to focus on the mistakes made in the last inning and to get it right back whenever the opportunity arises."
Grossmont senior AUSTIN ODOM had four hits, including a solo round-tripper in the sixth inning.
"I hit it over the short porch in right field at El Cap, so I would say it went about 320-feet or so," Odom said. "I feel like I'm seeing the ball really well right now at the plate.
Grossmont junior ZAK FARRIS singled home Odom for a 4-3 lead in the top of the fourth.
Junior JASE RUSSELL and sophomore GIO GIGANTI both finished with three RBI for the Foothillers.
"We stuck together and battled through adversity today," Grossmont head coach JORDAN ABRUZZO said. "We took a bunch of quality at-bats and found a way to win an ugly game.
Grossmont and El Capitan will turn around and play at Gizoni Field on Thursday at 4.
MOUNTAIN EMPIRE 19, LIBERTY CHARTER 8 – The Red Hawks' WYATT MANN and JACOBE NOLAND led Mountain Empire with five RBI apiece as the hosts scored at least three runs in each of the first five innings.
Mann had two triples in the contest, including a bases-clearing hit in the bottom of the fourth, which gave Mountain Empire a 14-5 lead
NATHAN ROSE had three RBI for the Red Hawks (7-3), including a two-run single in the bottom of the second to help regain the lead from the Lions, 7-5.
Liberty Charter (4-6) got two RBI apiece from juniors ZACHARY SCHWARZ and JOSHUA GASTELUM.
Schwarz doubled to left in the top of the second to give the Lions a short-lived 5-3 lead.
Noland also delivered five innings on the mound, allowing just two earned runs and striking out seven.
Sophomore ELIJAH DURAN had two hits, a walk, an RBI, and scored a run for the Lions, which will make another trek on  Thursday to take on the Julian Eagles (1-4) at 3:15.