Wolf Pack short Braves in five innings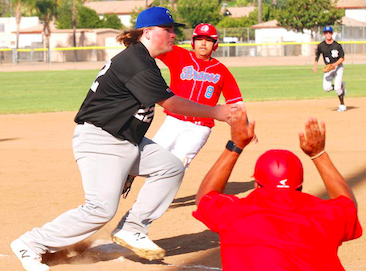 El Cajon Valley's AARON RODRIGUEZ slides at third base on Tuesday afternoon. / photo by Melissa Honick
2018 EAST COUNTY PREP BASEBALL
Special to EastCountySports.com
EL CAJON (4-11-2018) – The El Cajon Valley Braves nearly won their first league game since May 6, 2015, but the West Hills Wolf Pack rallied from a 5-2 deficit to take the Grossmont Valley League opener, 6-5, on Tuesday afternoon.

West Hills regained its composure from a four-error second inning to lose the lead, coming back to take the decision over the host Braves in a 5-inning ballgame.
"They don't beat themselves and played smarter than we did," said West Hills coach Mickey Deutschman. "We were very lucky to win."
Braves skipper Clifton Thomas, now in his fourth season at his alma mater, formerly played under "Mickey D." with the San Diego Stars semipro ballclub. Thomas, a Western Baseball Association standout with the Stars allowed his mentor to talk to the Braves after the contest.
"We took some positives out of the game," said Braves starting pitcher Jesus Favela, a senior. "We almost beat West Hills – we had them on their toes, their coach  even told us that after the game, giving us a speech."
"He honestly thought  that we did a good job and should've won the game."
As for the immediate future for the Braves?
"I said it before: we will be a force to be reckoned with and will come out on top in the (near) future. We are not finished yet," according to Favela.
Thomas concurred, "We will be giving a lot of people a run for their money with guys like Jesus, Robert (Verdugo) and Aaron (Rodriguez)."
Five early runs by ECVHS came on two consecutive plays in the second inning, punctuated with two Wolf Pack errors each, the second producing a "Little League" home run.
The Braves loaded the bases on a walk and a pair of hit batsmen. Mario Jacobs followed with a ground ball that was booted for one run, then the throw went wild, advancing all of the runners an additional 90 feet to tie the ballgame at 2-all, as Paul Lazalde and Luis Huerta scored.
Rodriguez, a left-hander who batted 2-for-2 plus a walk, followed with a base hit for the go-ahead run by Favela. However, two more errors allowed "Little A-Rod" to circumnavigate the bases and a 5-2 lead.
Rodriguez spent his freshman year as a West Hills student playing on the Frosh team
However, West Hills relief pitcher Landon Bailey entered to register the final out. Bailey then pitched the next three frames, only allowing an infield single and one walk to collect the victory out of the bullpen.
The Wolf Pack saw two runs come without the aid of a base hit.
Steven Cristini, the latest West Hills leadoff hitter, and Cody Pedrero walked, both moving into scoring position on a wild pitch.
Devin Bevilacqua followed with an ugly ground ball to the right side, yet it got the job to plate Cristini. Kai Dennis answered with a more conventional grounder to the right, again forcing ECVHS to go to first base while Pedrero scored.
In the third, Cristini again secured a lead walk. He stole second base, then came home on a double down the left-field line by Dennis.
West Hills moved even with two runs in the fourth.
Cristini (three walks, three runs) drew a free pass with two outs. Pedrero also walked, then both came home Bevilacqua line single.
The go-ahead run came an inning later. Gavin Kondyra opened the frame with a fly ball that was dropped in the outfield. He scored on consecutive ground balls by Larry "Chris" Schroeder – who was just voted as team captain by his teammates — and Honick for his second game-winning RBI in April.
Not much was expected from Cristini, especially at the plate, yet he's reached base in six of his last 10 at-bats.
"I'm just trying to give us a chance to win," said Cristini, a sophomore. "I did my job three times, but the other guys behind did their's, too, so it's starting to come together for us."
West Hills is now 5-9 overall (1-0 in the Grossmont Valley League), including three straight wins in April. The Braves fell to 4-5 (0-1 GVL).
El Cajon Valley last won a league game back in May of 2015 against Monte Vista, a 2-1 decision that was the Braves' first league win in 14 years.