ROUNDUP: Smallwood leads Knights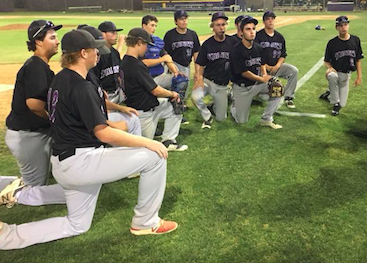 Foothills Christian huddles following its win on Monday.
2018 EAST COUNTY PREP BASEBALL
EastCountySports.com staff report
EL CENTRO – The Foothills Christian Knights made the long and arduous drive to the Imperial Valley to face the Southwest High Eagles, but the boys made it worth the trip to their fans, bringing home a 5-2 non-league victory on Monday afternoon.
The Knights were ready to go from the get-go despite the commute, putting up a pair of runs in the first, and TREVOR SMALLWOOD delivered six innings of one-hit ball and drove in two, as well, as Foothills Christian improved to 16-10.
Smallwood had a few encounters with baserunners along the way but took a no-hitter into the fifth inning, before the Eagles got a one-out single.
In the first inning, freshman TYLER KENNEDY drove in two runs with a one-out double to left, scoring senior BAILEY LEWIS and junior JALANI BROWN (double).
Smallwood drove in two runs in the top of the third with a one-out line double to right, scoring sophomore CORBIN HARRIS and Lewis, who both singled.
Freshman KIP FAMOLARO singled home the Knights' fifth run in the top of the fifth, driving in Brown (walk).
Smallwood was the winning pitcher for Foothills Christian, striking out seven.
"I felt good on the mound," Smallwood said. "I didn't have my velocity today so I relied heavily on my curveball and it worked."
Brown had two stolen bases for the Knights.
The Knights certainly helped their playoff standing in Division 4 by beating a team from Division 3.
Foothills Christian has another strong opponent on Friday at La Jolla Country Day at 6:30 p.m.
MOUNTAIN EMPIRE 16, JULIAN 8 – JACOBE NOLAND drove in four runs and scored four times to lead the Red Hawks to the non-league win.
The Red Hawks led 11-2 after 3 1/2 innings but led just 11-7 after four frames.
TREVOR ELLIOTT, a junior, had three RBI for the Red Hawks
Mountain Empire freshman SAMMY JONES had three hits in five at-bats.
Sophomore DEVLIN WEISIGER scored three runs without reaching on a base hit for the Red Hawks.
HIGH TECH CHULA VISTA 10, LIBERTY CHARTER 4 – High Tech Chula Vista sophomore KAI SATERSTROM homered and tripled, driving in three runs as the Bruins won at Liberty Charter on Monday afternoon in a Frontier League makeup contest which was rained out earlier this season.
Saterstrom, a San Diego State commit, has a .593 average this season with five home runs.
Bruins junior JACOB ROBINETTE also had a home run for HTHCV (2-0 Frontier, 8-8), which is tied for first with High Tech San Diego.
The Lions got four in the seventh, including an RBI single by junior VICENTE PEREZ.