ROUNDUP: Sultans, Eagles to meet in playoff showdown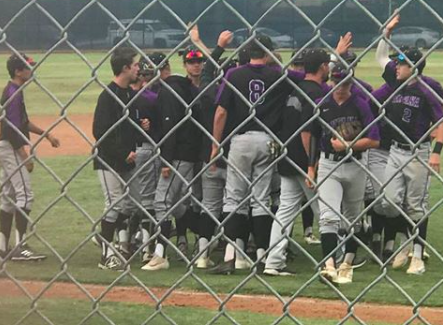 Santana players celebrate at Madison on Wednesday.
2018 EAST COUNTY PREP BASEBALL
EastCountySports.com staff report
SAN DIEGO – The Santana Sultans know what it takes to navigate their way through the San Diego CIF playoffs.
Last season, several members of this year's group were on a Sultan team that rushed to three wins in order to reach the Division II championship game, where they lost to a rapidly-rising San Marcos club.
On Wednesday, Santana won its second game in the Division I playoffs on the road, defeating the Madison Warhawks, 5-2, in a first-round contest. The Sultans won a play-in game at Vista a day earlier.
One day after the Sultans won a play-in game at Vista, senior T.C. SIMMONS turned in a clutch performance on the mound, going 6 2/3 innings, striking out seven.
After the Warhawks scored a pair of runs against Simmons, junior RYAN JAGGARD got the final out for the save to send the Sultans to a second-round showdown with Grossmont Hills League rival Granite Hills in El Cajon on Friday.
The winner advances to the third round, but the loser isn't eliminated from the double-elimination tournament.
Up until the late trouble, Simmons shut down a Madison (16-13) team that was ranked in the top ten early in the season. Still, the Warhawks finished tied for second in the tough Western League.
"I felt great today," Simmons said. "All of my pitches were on today and it makes things really easy when you trust your defense."
The Sultans grabbed a pair of runs in the top of the third when AIDEN DONOVAN, who had a one-out single, stole home with the bases loaded and two out.
White-hot senior LANDON WOOD had an RBI on an infield single that scored freshman TYLER GLOWACKI.
"We got some insurance runs offensively which made it easier for me on the mound," Simmons said. My teammates definitely had my back and we knew we were going to win."
The Sultans added the all-important third run in the top of the fifth on a sacrifice fly by senior BRANDON GLOWACKI, which brought home BEN HART (2-for-3), who led off the inning with a single.
Simmons doesn't necessarily fall into the Sultans' regular pitching plans, but with a possible three-game week, head coach RIGO LEDEZMA took a chance with his veteran leader, giving the Sultans a better chance against the top-seeded Eagles.
"Next game is a big game but also just another game," Simmons said. "We know how Granite Hills likes to play, but we are just going to go out there and play loose.
The Sultans went 1-2 against the Eagles during league play and also lost an early-season tournament game at Granite. However, the win also came on the road.
"We know that when we play like we know how to play, things will fall into place," Simmons said. "We can compete with any team."
FOOTHILLS CHRISTIAN 5, FALLBROOK 2 – The second-seeded Knights notched a Division IV playoff win over the Warriors behind the stellar pitching of steady star TREVOR SMALLWOOD.
Smallwood pitched a complete game and shut down Fallbrook after the visitors scored two in the top of the fourth to take a 2-1 lead in the game at West Hills High.
"(Smallwood) didn't have his dominant stuff but threw strikes and our defense was solid," Foothills Christian head coach DAVE LEWIS said. "Throw strikes and make plays and you win 90 percent of the time. That's what we did today. Good pitching, timely hits and great defense are hard to beat. Great win."
Foothills Christian will face third-seeded San Pasqual on Friday at 3:30, once again at West Hills High.
The Knights re-took the lead with three runs in the bottom of the fourth inning.
Senior CHRIS STALLARD (2-for-3) had a two-run single to the left side to bring home Smallwood (single) and freshman KIP FAMOLARO (HBP) to give FCHS a 4-2 lead.
"I was just looking to put the ball in play to get the runs in to put us back on top," Stallard said. "It was all-around great team win today. Our defense was solid, we didn't have any errors, and Trevor pitched great again for us today.
Smallwood won his seventh game of the season, but is always praising his teammates.
"Stallard is one of the reasons that we have been succeeding this second half," Smallwood said. "He has been hitting the ball well and his pitching is fantastic. He also came through again for us today.
Foothills junior JALANI BROWN singled and scored the Knights' final run in the bottom of the fifth.
"When we take our at-bats and head to the dugout we tell each other what the pitcher was throwing and what kind of pitches he has in his pocket so each and every one of us has an idea," Brown said. "When I was up there to hit I had all his pitches in my mind to react to them so I fouled a few and hacked at a pitch that stayed up in the zone and I got a base hit off that one."
Junior right-fielder PRESTON SACCONE recorded an outfield assist on a double play in support of Smallwood and his mates. Saccone ran in on a shot that seemed sure to be a base hit, then made the catch and throw.
"I knew that it was hit hard enough to where I still was able to get him," Saccone said. "BAILEY (LEWIS) was there at first and it was a nice play on both ends.
"Trevor threw a great game today like always. The team came together and fought and got a nice win."
While the SDCIF power ratings seed the Knights a notch higher than their next opponent, the Golden Eagles (19-10), of the Valley League, computer rankings indicate that Foothills will need its home-field edge to match up evenly with a San Pasqual team that has won eight-straight games.
"At the end of every game we talk with the coaches and have a player meeting," Brown said. "In those meetings we hype each other up and build confidence, even though were a young team that can take on whomever we play."
San Pasqual comes in with a team ERA of 2.96, but has just a .271 team batting average with just three home runs this season.
"We played well as a team today," said the Knights' CORBIN HARRIS, who added a base hit. "I feel like we are ready to take on any team we play. We will put up a fight until the end."
CATHEDRAL CATHOLIC 3, HELIX 1 – The fourth-seeded Helix Highlanders thought that a little home cooking against the Dons would lead to more success in the San Diego CIF Open Division playoffs.
But the Dons brought their own winning recipe to La Mesa, producing the go-ahead runs in the top of the sixth inning to break a 1-all tie, sending the Scotties to the elimination bracket.
Despite having a stronger power rating than county sixth-ranked Helix, eight-ranked Cathedral was seeded fifth because Highlanders sophomore ALONZO RICHARDSON hit a game-winning three-run home run to beat the Dons, 6-5, back on April 19.
However, now, Helix (21-9) will have to play with their backs against the wall.
"I am happy my kids get to be involved in a atmosphere like the one we saw today," said Helix head coach COLE HOLLAND. "Too many people get wrapped up into the outcome. I'm proud of are kids who have worked hard since August to be able to compete at the highest level in the country. I can't wait to throw them back out there Friday. Really proud of them."
The Highlanders will travel to face top-ranked and top-seeded Eastlake on Friday in an elimination contest after the Titans were upset in their first-round game against eighth-seeded Poway, 3-1.
Hot Highlander BRANDON PETERSON (2-for-4) had a lead double to left for Helix in the bottom of the first and DEVIN BAKER quickly drove him in with a ground single to right for a 1-0 lead on three pitches.
Helix sophomore THOMAS CANEDAY pitched 4 1/3 innings, allowing a home run to Garrett Frechette, as the Dons tied the game in the top of the fifth.
Junior GRIFFIN ZAMORA got the last two outs of the fifth in relief.
"Today, everything felt on point and was pretty effective," Caneday said. "Having a great defense behind me makes my job much easier in a game like this. I'm looking forward to facing Cathedral again."
The Dons' Zavien Watson drove in the go-ahead run and Frechette followed with an RBI single in the sixth.
"This was a great game between two of San Diego's best today," said Helix catcher ZACK OWENS, who reached with a hit and walk. "I think both teams played really well. They just came up with one more hit then we did and sometimes that's just how baseball goes.
But first the Highlanders face an Eastlake team that won three meetings during the season between the powerhouse programs.
"As for Eastlake, 4th times the charm right?" Owens said. "I think we are well prepared for Eastlake and I don't think we would want to play anyone else. As long as we stay aggressive at the plate I think we will be just fine against them."
I still have a couple of things that I need to do better and I think I speak for our entire team when I say that. I went up just trying to get the guy behind me up we just unfortunately didn't get that key hit.
Cade Brown got the win, going 6 2/3 innings, allowing one run on four hits and striking out four. Noah Owen came on to notch the save.
Cathedral (20-8) will host Poway.
CARLSBAD 4, GROSSMONT 1 – The visiting Lancers scored three runs in the top of the seventh to spoil the pitching effort of junior JACK HYDE, who left after seven innings.
The Foothillers are knocked into the elimination portion of their half of the bracket, where they will face La Jolla Country Day at home on Friday at 3:30 p.m.
"Jack threw a great game and deserved to win," Grossmont head coach JORDAN ABRUZZO said. "Unfortunately we didn't do anything else that we preach every day.
"We weren't aggressive at the plate and we couldn't get a big hit. We have the guys to make a run at this thing if we want to."
Hyde struck out eight and walked none to keep the Foothillers in the pitcher's duel against junior Drew Sommers, who allowed one run over six frames.
"My fastball command was excellent today and my location made me very tough to square up," Hyde said. "My slider was okay today but I had trouble locating it."
Eventually, Hyde had to give way to the bullpen after 95 pitches.
"I did not feel any pressure to strike anyone out," Hyde said. "I just focused on throwing strikes and giving my defense a chance to make plays. I believe that we can beat any opponent that we face, when the bats come alive we are a complete and very good team."
In this one, each run would loom large.
Grossmont scored in the second inning when JASE RUSSELL singled home GIO GIGANTE (single) on a bunt with two out.
In the top of the sixth inning, Carlsbad tied the game when Nash Johnson singled for an RBI.
Senior CHRIS GIOVENGO went 2-for-4 for Grossmont (16-12-1) but the Hillers finished with just five hits.
Senior Korey Loberg got the win with two hitless innings, recording two strikeouts.
The Lancers, seeded tenth, will travel to take on Westview, on Friday.
MOUNTAIN EMPIRE 15, VINCENT MEMORIAL 6 – Junior RYAN SAWYER went 5-for-5 with three RBI and seven stolen bases leading the second-seeded Red Hawks to the San Diego CIF Division V first-round victory at home, setting up a second-round matchup with Citrus League rival Calvary Christian.
Both teams finished 5-1 during the league season. The home team won both regular season meetings.
Sawyer singled in the first, third, fourth, fifth, and sixth inning on Wednesday.
JACOBE NOLAND had a double, a triple and drove in four runs for Mountain Empire (18-4).
Junior TREVOR ELLIOTT started the game ad pitched three innings, striking out five, saving the star hurler for the Calvary rematch.
Trevor Elliott only pitched 3 innings striking out 5.  Able to save him Friday against a Calvary rematch.
Mountain Empire senior WYATT MANN drove in three runs without the benefit of a hit or walk.
NATHAN ROSE, a sophomore, had two hits, two RBI and three runs scored for the hosts.
Red Hawk senior WYATT AGUILAR drove in two runs.
The Red Hawks led 15-2 before Vincent Memorial scored seven runs in its final at-bat.
Junior IAN ESTRADA came on to record a couple of outs to put out the fire.
The championship game in Division V, in which Mountain Empire is a favorite to make, is June 2 at noon at UCSD.