ROUNDUP: One win at a time for Foothillers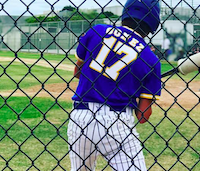 ISAIAH GOMEZ is on deck for Grossmont on Saturday.
2018 EAST COUNTY PREP BASEBALL
EastCountySports.com staff report
LA MESA – The Grossmont Foothillers are still in contention to defend their San Diego CIF Division I baseball championship after eliminating Westview, 7-4, on Saturday at Gizoni Field.
It wasn't easy.
The Hillers will face Carlsbad on Tuesday and will be to defeat the Lancers on back-t0-back days in order to gain entry into the title game next Friday evening at USD's Cunningham Stadium.
"We're taking it one pitch at a time, one inning at a time, one game at a time," Grossmont head coach JORDAN ABRUZZO said.
Junior KEONI VALDEZ hit a three-run home run off the scoreboard for Grossmont (18-12-1) with two outs, in the bottom of the third inning, which gave the Foothillers a 4-0 lead.
"I'm not sure how far it went because it hit off the scoreboard," Valdez said. "Westview's pitcher gave me a fastball first pitch low and in and I just got my bat head out early and took advantage of it. Coach Abruzzo just told me to have fun and not try to do too much with the ball."
However, the Wolverines picked up a pair of funs in the top of the fifth to kindle their hopes.
Grossmont senior CHRIS GIOVENGO had an RBI double in the last of the fifth, giving the Hillers a 5-2 advantage.
But Westview was able to pull to within 5-4 with a pair of markers in the top of the sixth.
Grossmont senior AUSTIN ODOM singled home one of two Foothiller run in the bottom of the frame to go up by three.
The visitors put together a serious threat in the top of the seventh, but Grossmont got out of it unscathed.
Hiller senior JOE WILLIAMS pitched five innings, allowing no walks and striking out four.
Grossmont lost its first-round game at home to the Lancers, 4-1 in eight innings, putting the second-seeded Hillers in their current predicament.
"It's a tough task to come out of the loser's bracket so we are trying to narrow our focus to what we can control," Abruzzo said. "If we play well, we have a shot."
MADISON 17, GRANITE HILLS 4 – Madison pounded the Eagles early with 16 runs over the first two innings.
The Warhawks scored 10 runs in the first inning.
By the time the Eagles staggered to their feet, they managed to scrap three runs together in the second inning and another in the third on a solo home run to left by SEAN MCGREW, which made it 16-4.
"The pitcher fell behind by throwing two off-speed pitches for balls," McGrew said. "He had to come back with fastballs, so I took advantage of it and hit it out."
The shot gave Granite a dose of hope for a wild comeback.
"I'm disappointed that we threw away a CIF (playoff) that was ours for the taking," McGrew said. "But looking back, we had an impressive season for having such tragedies with our team to deal with."
Sophomores CLAY FORDHAM and RYAN FENN (3-for-3), and junior BRIAN SMITH, drove in runs for Granite Hills.
"Madison played great baseball today," Fordham said. "Putting up 16 runs over two innings is quite an accomplishment, but I knew the game wasn't over.
"We certainly got a small something going, but we just didn't have enough to get all those runs back."
The Eagles' NOAH PONCIANO pitched four scoreless innings.
Granite Hills (16-13) the first of three Grossmont Hills League teams knocked out of the Division I playoffs, leaving Eagle foes Grossmont and Santana still alive for the championship.
"Santana is very good fundamentally and plays excellent small ball while Grossmont plays on the other side of the game," Fordham said.
FALLBROOK 2, FOOTHILLS CHRISTIAN 0 – Warrior pitchers Zachary Allegro and Harrison Brown combined on a five-hit shutout to eliminate the Knights in a Division IV game at West Hills High.
An edge-of-your-seat scoreless game through five thanks to Foothills Christian freshman pitcher KIP FAMOLARO, Fallbrook earned single markers in the top of the sixth and seventh inning.
"I wanted to give my guys the best chance I could for a win," Famolaro said. "We faced a strong pitcher who had command on his fastball and never got that breakaway inning."
Famolaro pitched a complete game in defeat, issuing no walks.
"Everyone fought to the very last pitch and at the end of the day, we had an amazing season," Famolaro said.. This team is like a
".This team is like a family to me, we couldn't have done it without the entire team, led by our seniors TREVOR (SMALLWOOD), BAILEY (LEWIS), and CHRIS (STALLARD). They have taught me some great stuff and I hope I can follow in their footsteps to becoming a leader on the team for the many years to come."
Famolaro also had a base hit.
"Both pitchers threw well," said Stallard, who had one of the hits. "We put ourselves in great scoring opportunities with our five hits and we just couldn't have that one big hit we needed.
"I think we had a great second half of the season with some of our best games coming out of the second half. The team has a lot to look forward to next season."
The Knights finished the season with 20 wins, putting up an average of five runs per game.
"Our offense just didn't come through today," said Foothills junior JALANI BROWN. "The pitcher we faced wasn't there two guy but he hit his spots and did his job. He didn't have any pitch that we haven't seen, we just didn't come out and hit the ball. His fastball was probably his best pitch but he did have off speed."
The Knights loaded the bases with one out in the second inning
"We couldn't get the job done," Brown said. "We left many people on base. We should have taken that game."