Sultans beat Eagles in Division I playoff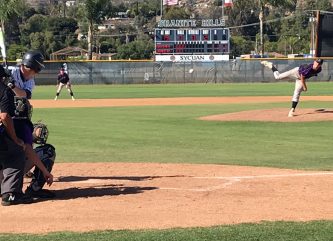 Santana's LANDON WOOD delivers to Granite Hills on Friday afternoon. / photo by Dani Haze
2018 EAST COUNTY PREP BASEBALL
EastCountySports.com staff report
EL CAJON – The 12th-seeded Santana Sultans are all of a sudden the team to beat in the San Diego CIF Division I playoffs after knocking off top-seeded Granite Hills, 4-3, on the Eagles' home turf Friday afternoon.
The Sultans (10-19) won their third-straight playoff game this week and are one win away from playing in their second-straight CIF championship game after defeating Granite Hills (16-12) in the fifth meeting between the two teams this season.
The Grossmont Hills League rivals could meet a sixth time if the 11th-ranked Eagles can defeat visiting Madison on Saturday at 11 in an elimination contest.
The winner will host a meeting with the surging Sultans on Tuesday at 3:30. Santana will play the game with a title-game berth on the line, while the remaining team would need to beat Santana on back-to-back days.
Senior LANDON WOOD pitched 6 2/3 innings and junior RYAN JAGGARD came on to record his second crucial one-out save of the week, coming in with runners at second and third, to secure the Sultans' advantage in the top half of the bracket.
Santana seniors BRANDON GLOWACKI, JOSH OEDEWALT and JAKE SARGENT drove in runs. Oedewaldt's hit drove in BEN HART (walk) to put the Sultans up 3-1 in the top of the fifth.
Granite's JAKE FENN had a pair of sacrifice fly outs in the contest, including a ball to right in the bottom of the sixth, which closed the lead to 4-3.
The Sultans worked nine free passes against Eagle pitching.