Strong rises on Rays' draft board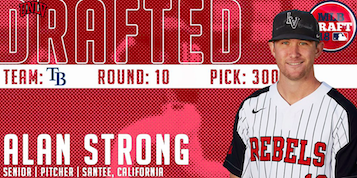 2018 MAJOR LEAGUE BASEBALL DRAFT
EastCountySports.com staff report
SANTEE – Former Santana High and Grossmont College pitcher ALAN STRONG knew the call could come sometime on Tuesday, but he might've thought it could more likely come on Wednesday.
Unlike the entry drafts in the other major sports, in the Major League Baseball First-Year Player Draft only a select few are invited to the league's headquarters in New Jersey or featured with family and friends in a live television remote shot.
For most of the 1,200 or so players selected, they find out just like Strong did earlier this week.
"Got the call on the 18th hole on the golf course with three buddies from high school," Strong said. "I was speechless at first. Turned to my buddy in the cart  and said, 'they just took me!'"
"They" would be the Tampa Bay Rays, who tabbed Strong in the 10th round with the 300th overall pick in the draft.
"Right next to me was CORY CONNER," Strong said. "We played together in little league and high school."
The guys may have been out shooting a round of golf just to keep Strong's mind off the waiting game, or possibly because the new UNLV grad may have been projected as a third-day selection.
Whatever the case, Strong's stock was obviously on the rise in the Rays' eyes after a two-year record as a starter of 12-8 with the Rebels.
This season, he went 7-3, including a complete game in front of family and friends at San Diego State in late April and earned 2018 All-Mountain West Conference second-team honors under Baseball Hall of Fame member Greg Maddux, who serves as a Rebels' pitching coach.
Strong plans to report to the Princeton Rays this season, Tampa's advanced rookie level in the Appalachian League.
"I sign my contract with the scout that drafted me (on Friday) here in town and then I will report to the facilities in Florida this weekend," Strong said.
Strong was a first-team All-East County selection and second-team All-San Diego CIF pick at Santana in 2014 after going 10-2 with a 1.55 ERA. He had 88 strikeouts and eight walks in 81 1/3 innings pitched and was named the Grossmont Valley League's Pitcher of the Year and was a first team All-GVL pick in both of junior and senior seasons.
In 2016, Strong went 9-3 with a 2.74 ERA at Grossmont College, combining with his current teammate and roommate at UNLV, DONAVON MCCRYSTAL, for 19 wins and four losses in that season for the Griffins. He was an All-Pacific Coast Athletic Conference first-team selection in '16.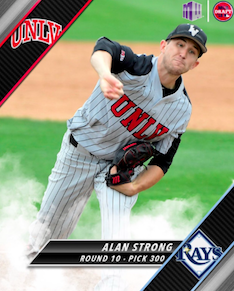 "I think what helped me was an increase in my velocity over the last couple years and being able to command three pitches," Strong said. "And my pitching coach at UNLV (Maddux) was incredible."
Strong almost doubled his walk-to-strikeout ratio to nearly 4-to-1 from his junior to senior seasons with the Rebels.
"I was incredibly lucky to have a Hall of Famer for a college pitching coach he was a big reason I had some success and have a chance to play professional baseball."
Strong joins a long list of former Santana High players to be drafted my major league clubs. The latest before Strong on Tuesday was just last season when the New York Mets took NOAH NUNEZ in the 39th round.
Other Santana pitching greats that made a splash through the draft include TERRY FORSTER, JOE PRICE, HAYDEN PENN, JOE DAVENPORT, MIKE HOOK, BRIAN PICKERTON and JAMES NEEDY.
With anything close to a "strong" progression professionally, Strong is sure to be included on that illustrious list.
"Just want to say thank you to all my coaches and teammates from Santana, Grossmont College and UNLV for everything they have done for me," Strong said.