Utah State takes Chance on Lovato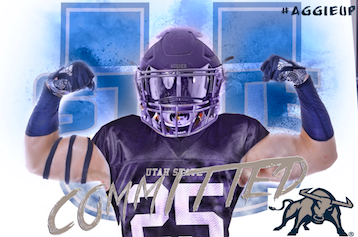 FORMER EL CAPITAN VAQUERO FINDS HIS CALLING VIA UTAH STATE
2018 EAST COUNTY FOUR-YEAR COLLEGE FOOTBALL STANDOUTS
By Dave Dickens 
EastCountySports.com
LAKESIDE (6-30-2018) – After fielding many calls from smaller programs, including Whittier Community College, in Orange County, Wagner College, in New York, Asuza Pacific University, local community colleges Southwestern and Palomar College, last Sunday morning the news was given to Utah State linebackers coach Stacy Collins.
This deliberation with Utah State in particular had gone on for several months.
Typically these decisions are made before graduation from high school around early February, however former El Capitan High Vaquero CHANCE LOVATO likes doing things his way.
"This is one of the bigger decisions in life and I needed to weigh all options carefully," Lovato said.
🙏🏽🙏🏽 pic.twitter.com/BrHJh5F82K

— Chance Lovato (@chancelovato1) June 25, 2018
The 5-foot-10, 180-pound safety from Lakeside took a trip recently to visit the Utah State campus.
He toured the facility in it's entirety from the classroom to the two-year-old state of the art conditioning facility, donated by former alumni.
"The state of Utah and the college were beautiful, completely different from home," Lovato said.
Chance graduated from El Capitan earlier this month with a 3.6 GPA, and plans on majoring in Sports Medicine.
"After college, just like any aspiring young man, I would love to take it to the next level and play in the NFL, but would like to be a physical therapist if that doesn't work out," Chance explained.
Lovato will officially join the Aggie squad on August 1st as a preferred walk-on to participate as a defensive back at the fall camp.
Lovato as a senior put up impressive numbers in 2017. Chance had 48 tackles, two tackles-for-loss, one sack, four interceptions and one forced fumble.
Lovato in 2016 recorded duplicate numbers, 50 tackles, 0.5 tackles-for-loss, three interceptions, two pass
breakups and one fumble recovery.
When questioned about his tenure playing for head coach RON BURNER, Lovato said: "He was a stickler, on the field in particular, but I learned a lot. He did everything for us as his players."
His brother, CHASE LOVATO, who was also a standout player for the Vaqueros in football and basketball, will be attending Grossmont Community College.
"My parents are extremely proud of me," Chance Lovato said. "But now that it's getting closer, sad that I'm leaving home soon."
We were fortunate to see this outstanding young man and player, a man of determination and candor.
"Chance is a great kid," Burner said. "He decided to walk on at Utah State because he liked coach Collins, who was the recruiter for our area. "Coach Collins had to wait to see if they had any opening for Chance and then this past week he flew up there to check out the campus with his dad and fell in love with the place, players and coaches."
The Aggies have definitely gained an asset to their athletic program and to their classrooms.
"(Chance) will really enjoy the D1 atmosphere and will work every and I think he will compete for a special teams position," Burner said.
Utah State just produced an All-American defensive back out of the East County in former Helix great JALEN DAVIS, who recently signed with the Miami Dolphins after going undrafted.