Tigers taking note of De La Rosa progress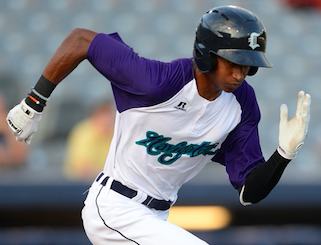 ERIC DE LA ROSA
2018 EAST COUNTY PRO BASEBALL ALUMNI
By Nick Pellegrino
Special to East County Sports.com
NORWICH, Conn. (7-14-2018) – Whether it was Kearny High alum Alan Trammell, who will be enshrined in the Baseball Hall of Fame on July 29, or current prospect Eric De La Rosa, who played locally for the San Diego Stars,  the Detroit Tigers have traditionally kept the strong eye on their minor-league ballplayers to give each their best opportunity for success.
De La Rosa, an All-East County performer out of Mount Miguel High then an All-America outfielder for Grossmont College, was drafted first in the 5th round by the Tigers in early June. A month later, De La Rosa is now with his third team with the Tigers organization.
His stay in the Rookie League lasted a mere three games, batting .462 (6-for-13) with Tigers West. He then sent to Class A Michigan of the Midwest League, but his .103 mark in nine games may have been too much for the Spring Valley native.
So the switch to the Connecticut Tigers, the Class-A short-season affiliate of Detroit, has proven to be just right.
De La Rosa debuted with a perfect 4-for-4 (plus a walk) at the plate, leading to a victory on July5. He enters this weekend with a .321 batting average, gaining a promise to return the Full-season Class-A squad by the end of the summer.