Former Highlander Kenny Keys dies at 25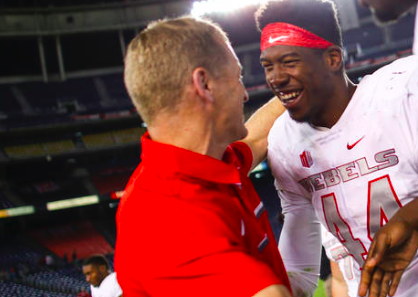 Keys is congratulated by former UNLV coach BOBBY HAUCK, now with SDSU, following a game against the Aztecs at Qualcomm Stadium in 2015.
2018 EAST COUNTY PREP FOOTBALL FOUR-YEAR COLLEGE STANDOUTS
By Ramon Scott
EastCountySports.com
LAS VEGAS – Former Helix High and UNLV football star KENNY KEYS has died at the age of 25, it was learned on Friday evening.
Keys' brother, Kendal, is a current member of the University of Nevada, Las Vegas football squad and also attended and played football at Helix. Kendal is entering his season year at UNLV.
Details of the former defensive backs' death have not been released, but the Rebels' athletic department released a statement late Friday with comments from head coach Tony Sanchez.
"I was heartbroken to learn of the passing of Kenny Keys," Sanchez said in the statement. "It obviously hurts even more when you lose one of your own.
"Kenny was a great Rebel who played his heart out on the field and was a highly respected teammate and person. We are devastated about the loss of this young man and pray for his family, especially our own Kendal.
"Kenny will be truly missed."
UNLV director of athletics Desiree Reed-Francois also issued a statement.
"The Rebel Family's hearts are heavy after learning of the loss of former UNLV football player Kenny Keys.
"Our thoughts and prayers are with his younger brother Kendal and the entire Keys family.
"Many others on our current team also played alongside Kenny and have lost a former teammate. We will be offering counseling services to our student-athletes and staff during this time of grieving."
Kenny Keys appeared in 53 games over five years with Nevada, Las Vegas, which included a medical redshirt year in 2013.
He completed his career with 206 tackles, 10 pass breakups and three interceptions after earning All-East County second team honors with the Highlanders in 2010, his senior season in high school.
Kenny Keys had three picks in his final year at Helix Charter. He was also the school's star on the varsity basketball court in 2010-11, averaging 14 points per game. He played his youth football for the Skyline Tigers.
In addition to Kendal, Kenny is survived by his sister and parents.
This one's for you😞🙏🏾 https://t.co/xSWnH1XrCh

— Kk🌻 (@babykeys010) July 27, 2018