Cajon too much, too soon for Scotties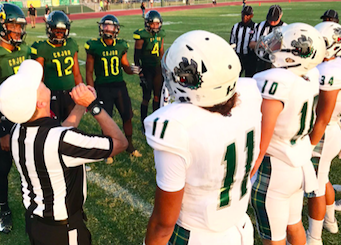 Helix and Cajon during the coin toss on Friday night.
2018 EAST COUNTY PREP FOOTBALL
CAJON 43, HELIX 3
EastCountySports.com staff report
SAN BERNARDINO – The No. 1-ranked Helix Highlanders got a look at a high-octane high school offense on Friday night.
Against the Cajon Cowboys, the state's No. 12-ranked team, Helix had no way of stopping quarterback Jayden Daniels and a flurry of talented players.
Helix grabbed the early lead with a field goal from CHASE OSBORN.
But Cajon dominated from there in a 43-3 victory over the Scotties.
The Cowboys weren't too shabby defensively, either, hog-tying Helix backs.
Highlander star ELELYON NOA left the game following an injury during the second quarter.
Pep Fernandez brings us the action…