Cagle ends Chargers' long losing streak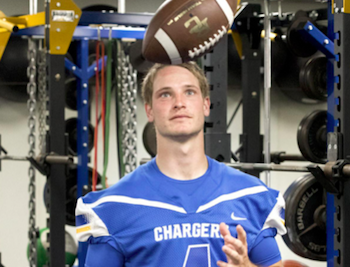 Briar Cliff University Brad Cagle / Sioux City Journal photo
2018 EAST COUNTY FOUR-YEAR COLLEGE FOOTBALL STANDOUTS
From staff and wire reports
SIOUX CITY – BRAD CAGLE came to this Iowa town with expectations to help the Briar Cliff Chargers air it out.
Then he put the expectations on himself by saying he wanted to be the first quarterback to lead the program to a winning season.
The Chargers were 0-11 last year.
"It doesn't matter where you are, from Pop Warner to the NFL, you are as good as your quarterback," said Briar Cliff's second-year head coach Dennis Wagner. "If your quarterback does a great job and manages the team and understands what his role is and what he has to do, he doesn't always have to be the guy. If he has great receivers and backs to hand off to, he just has to manage that system. That's all we ask our quarterbacks to do, manage the system. Where it takes you beyond that is up to your ability."
A team that has relied on former West Hills Wolf Pack great NOAH YLAGAN to carry the team literally on his back to record-breaking rushing seasons for the last two years, now has another East County man in town known for putting up big numbers.
Cagle, the former El Capitan High and Grossmont College passing star, arrived on campus following a December commitment and made his impact felt in the season opener on Saturday afternoon at sun-splashed Memorial Field, as he guided the Chargers to their most-ever points in a home game and the third-most points ever.
He did so by throwing four touchdowns passes and passing for 253 yards as the Chargers ended a 21-game losing streak dating back to early in the 2016 season with a 40-13 victory over Waldorf Saturday
Cagle had touchdown passes to three different receivers, including Elijah Brown, who caught scoring passes of 25 and 45 yards in the second and third quarters, respectively.
The squad recorded 449 yards total offense and after a slow first-half start, converted 9 of 12 third-down attempts in the second half.
In fact, Cagle led the offense to three consecutive second-half touchdowns. On a 14-play, 80-yard drive that began midway in the third quarter, Cagle fired passes to five different receivers, including running back Ylagan, whose 16-yard touchdown catch produced a 34-7 lead.
"We have a lot of targets and a lot of good athletes in our offense," said Cagle, the sixth Charger to throw four touchdown passes in a game. "I just try to utilize everybody as much as I can. The coaches helped us out with an amazing scouting report. Our focus and determination all off-season and all week long coming into this game. My offensive line held their own in the trenches."
Cagle will have even more targets when Briar Cliff resumes action Sept. 6 at Dakota State. The layoff will give running back Kwame Johnson enough to return from an injury along with wide receiver Khamren Davenport and tight ends Tarik Ballard and Tyler French.
The numbers in his first NAIA start were Cagle-like.
The durable passer had 4,375 yards and 36 touchdowns the previous two falls at with the Griffins. He arrived last spring to learn Coach Dennis Wagner's system, he stayed during the summer and after the first scrimmage in fall camp, was named the starter.
"It's something that I worked really hard for," said Cagle Thursday afternoon during media day at the McCoy-Arnold Center. "We want to change the atmosphere here at Briar Cliff and hopefully come out and win some games this season. We've worked so hard this whole offseason, so hopefully that hard work pays off and everyone stays healthy, continues to go hard and have a great season."
Ylagan did much more than rush for school-record totals of 1,334 yards and eight touchdowns. The second-team Great Plains Athletic Conference running back was also an effective receiving target out the backfield with 15 catches for 133 yards.
Both of the local men were named team captains. Cagle arrived in spring and adapted to the shotgun formation for the first time in his career. Working with receivers three weeks before spring practice had them in sync and put Cagle on the fast track to the starting job.
"Brad's my guy," said Ylagan. "He has a strong arm. He has a good football mind. He's an intelligent guy, always willing to do the right thing. He's a good leader. We have to make sure he stays safe all season long."
Second-year head coach Dennis Wagner simply wants Cagle to manage the system.
Ylagan, who had six games of 100 or more yards rushing a year ago (including 265 against Dakota Wesleyan and 218 against Hastings), is healthy after missing spring drills with an ankle injury.
"We have a good team all around in every position, every part of the depth chart," said Cagle. "We're going to keep it even running the ball wise, throwing the ball wise. We have a bunch of different packages. We have a lot of good athletes at the receiver positions and talent all around.
"I just want to lead this team to as many victories as we possibly can. We'll spread the ball out. We can do a lot of different things in this offense.""