Former Sultan, Comet Guzman, 36, dies
Updated: December 9, 2018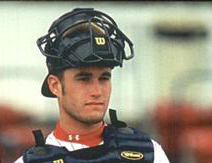 Former Santana High and Palomar Comet Jacob Guzman dies at 36.
From Palomar Athletics
SAN MARCOS (12-08-2018) – Jake Guzman, a former Santana High star who was drafted out of Palomar College following the 2001 season by the Kansas City Royals and spent three years as a catcher in the Royals' farm system, advancing to the Double-A level, passed away unexpectedly in Gulf Shores, located on Alabama's Gulf Coast, on Tuesday, Dec. 4.
Former Palomar head coach Buck Taylor, who is currently the pitching coach and coordinator at Kansas State University in the Big 12 conference, posted the news of Guzman's passing on social media on Saturday.
Taylor coached catchers and pitchers when Guzman, who came to Palomar out of Santana where he had been an All-CIF San Diego Section selection, was the first-team All-Pacific Coast Conference catcher for the 2001 Comets.
Guzman drove in 44 runs, at the time tied for fourth best on the all-time Palomar list. He helped lead Palomar to a 32-11 season. The Comets, under head coach Bob Vetter and associate head coach Taylor, finished one game out of first place in the PCC.
In his senior year at Santana, he belted 16 home runs and drove in 40 RBI while batting .457 for the Grossmont North League champions
Guzman spent five years total in professional baseball, in the Royals farm system after being drafted in the 31st round and then played in Independent ball where he was briefly converted into a pitcher. In his best pro season, he hit .319 for Yuma in 2005.
Jacob Paul Guzman was born on Aug. 2, 1982 in La Mesa.
He was 36 years old.
Initial reports were that Guzman died on Thursday.
According to FOX10tv.com WALA in Mobile, the Gulf Shores Police Department was called to the 1500 block of West Beach Boulevard in Gulf Shores on Tuesday in reference to a death investigation, beginning a series of events which is routine in undetermined deaths. Patrol officers confirmed Guzman's identification and that he was deceased. Officials said the department secured the scene and initiated an investigation before contacting the Baldwin County Major Crime Unit for assistance.
Investigators from both agencies, acting as a team, launched a full-scale investigation to determine the cause of Guzman's death. They stressed that foul play is not suspected, but said the cause and manner of death have not been identified, and according to the FOXNews website "toxiocology reports and other investigative techniques" would be conducted by the Alabama Department of Forensic Sciences in an ivestigation that "could take months."
Guzman is survived by his parents, Paul and Sheri Guzman, and by a daughter.