RedHawks get third-straight shutout win
Updated: September 8, 2018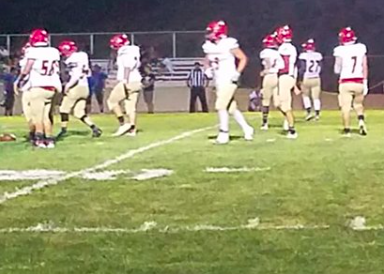 Mountain Empire lines up against Silver Valley on Friday night.
2018 EAST COUNTY PREP FOOTBALL
MOUNTAIN EMPIRE 20, SILVER VALLEY 0
By Roxy Burns
Special to EastCountySports.com
YERMO – The Mountain Empire RedHawks are setting some outrageous defensive standards.
The RedHawks pitched their third-straight shutout on Friday night, blanking host Silver Valley, 20-0.
The Trojans beat MEHS in Pine Valley last season, but CAMERON WILL had 11 tackles, including three for loss, and ESTEBAN CASTILLO, DALLAS PRINCE and RYAN SAWYER scored touchdowns in the win.
Prince had a 14-yard touchdown run in the first half and Sawyer caught a 23-yard touchdown pass from quarterback GABRIEL HYDORN, who passed for 101 yards.
Senior MARQUIS DAVIS had five receptions for 47 yards to lead the offense.
Castillo had a 37-yard TD run with three minutes left in the game.
The Mountain Empire offense had multiple penalties and four turnovers.
The RedHawks were threatened early in the third quarter after a fumble on the first play of the opening drive on their own 20. The defense then stiffened to turn the Silver Valley threat back.
Sophomore EFRAIN PENUELAS had a pair of sacks for Mountain Empire.
CHARLIE SALLEE had five tackles, including one for loss, while ANTONIO ARCE had five tackles, including two for loss and a sack.  MACRUS SMITH had tackles. AARON PETERSON added four tackles for MEHS.
Next week, the Coronado Islanders (D-IV) visit "The Nest" for a showdown between two 3-1 teams in what is a very closely-rated matchup.