Eagles certainly beat Cougars with Will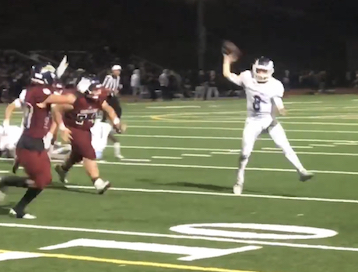 CRIS OSTRENG throws a touchdown pass on Friday night.
2018 EAST COUNTY PREP FOOTBALL
GRANITE HILLS 30, STEELE CANYON 27
By Jim Lindgren
Special to EastCountySports.com
SPRING VALLEY – Epic encounters, frantic finishes and wild weirdness are becoming the norm in the rivalry between Granite Hills and Steele Canyon.
Friday night was no exception as Granite Hills pulled another rabbit out of the hat to steal a 30-27 victory over Steele Canyon in front of a huge homecoming crowd at Steele Canyon.
Whenever they meet, "It's going to come down to the last play of the game, and it's going to be exciting," Granite Hills coach Kellan Cobbs said. "Five of the last six games have come down to the last play of the game."
Friday night was no exception as Granite Hills senior defensive end Noah Medeiros burst through the left line and sacked Steele Canyon's Nathan Barnett on the last play of the game.
With 9 seconds left, the Cougars were looking for a game-winning touchdown on a first-and-goal play from the 7-yard line. Or, the Cougars were looking for a throwaway incompletion and a chance to tie the game with a field goal.
Instead, the Cougars had to endure a jubilant celebration by the Eagles, who improved to 6-0 with an improbable win in their return to the Grossmont Hills League. After four straight momentum-building wins, Steele Canyon dropped to 4-2.
Granite Hills appeared to be down and out several times, but the Eagles took the final lead on a 5-yard run by Cris Ostreng with 48 seconds to play, capping a 12-play, 80-yard drive after the Cougars had taken a 27-22 lead on quarterback Nathan Barnett's 11th touchdown of the season with 5:02 to play.
"Every time we play them, wow!" Steele Canyon coach Scott Longerbone said. "It's always a close game."
Last year, Steele Canyon edged the Eagles 28-27 when Granite Hills missed a 2-point conversion attempt at the end of the Division II semifinal game that led to Steele Canyon winning its first-ever San Diego Section title and California State Bowl championship.
Earlier in a regular-season matchup, Granite Hills stunned the Cougars 43-41 when the late Will Burton hauled in a TD pass with 3 seconds left.
In 2015, Granite Hills won 25-24. In 2013, the Eagles won 17-14.
On Friday, in Steele Canyon's homecoming, the Cougars appeared to be in control early in the third quarter. They already led 14-7 and looked to increase that after taking their opening possession of the half 55 yards on 12 plays to the 7-yard line.
However, Jonathan Kenney's 24-yard field goal attempt was low and blocked by Jacob Hennessey. Aaron Machado caught the blocked kick and raced 70 yards to the 26-yard line.
After a ruffing-the-passer penalty against Steele Canyon, the Eagles' first play of the second half resulted in a 13-yard TD pass from Ostreng to Dylan Rutter to make it 14-12 after a failed 2-point conversion pass attempt.
"That blocked field goal was brutal because it went from us getting three points to them getting seven just a few seconds later," Longerbone said.
Granite Hills had been held to 38 total yards and two first downs in the first half, but the Eagles did score the first touchdown after Ethen Bishop returned a bad-snap fumble 44 yards to set up a short scoring run by Ostreng with 3:05 to play in the first quarter. The PAT kick was blocked by Antoine Walker.
Steele Canyon roared right back with a 13-play, 65-yard drive capped by a 15-yard TD run by Wesley Neely III to give the Cougars a 7-6 lead early in the second quarter.
Late in the half, the Cougars' Chris Carter returned a punt 59 yards that led to a 1-yard TD run by Kenneth Watson, giving Steele Canyon its 14-7 lead at intermission.
Midway through the third quarter, Steele Canyon began a 6-play, 65-yard scoring drive with Watson diving into the end zone for a 1-yard TD.
Two plays later, Ostreng hit Ethan Raymond on an 84-yard scoring pass to trim Steele's lead to 21-19.
Four plays later, Granite Hills' Trevor Day forced a fumble that was recovered by Zoseph Cuero at the 43-yard line.
Ostreng immediately hit Jacob Setterberg for a 30-yard pickup, and moments later the pair connected for a 15-yard gain that led to a 22-yard field goal by Justin McElligott that gave Granite Hills a 22-21 lead with 10:50 to play in the fourth quarter.
Ostreng was just 2-of-7 passing for 19 yards in the first half. His first four completions of the second half went for a 13-yard TD, an 84-yard TD and first downs of 30 and 15 yards. Ostreng finished with 222 yards on 10-of-20 pass attempts with two touchdowns.
After McElligott's field goal, Steele Canyon drove 58 yards on 11 plays and went ahead again on a 1-yard run by Barnett with 5:02 to play.
From there, key plays on the Eagles' winning march included Ostreng passes to Richard Harris for 17 yards, to James Johnson for 19, to Rutter for 9 and Johnson for 16 to the 14-yard line.
Ostreng then rushed for a 4-yard gain to the 10-yard line and was hit out of bounds for a penalty that added 5 more yards before his 5-yard TD run that ultimately won the game.
"He (Ostreng) stepped up and played really well," Cobbs said. "We were trying to establish the run early in the game, but that didn't work out so well. We knew were going to have to throw the ball. We made some big catches in key moments."
To set up Steele Canyon's last-gasp attack, Barnett threw deep and connected with Valon Martinez for a 50-yard gain to the 7-yard line with 0:09 to play.
Steele called timeout. Granite called timeout.
The stage was set, but for whom?
Out of the shotgun, Barnett dropped back, pump-faked, hesitated and then was grabbed down by Medeiros as the clock wound down to 0:00.
"We can't get sacked right there," Longerbone said. "Get rid of it. Throw an incomplete pass, we kick a field goal and go into overtime."
Despite a frustrating final, Longerbone was gracious in defeat and highly praiseworthy of Granite Hills.
"They're a really good team," he said. "I think their defense is really good.
"In Division II (playoffs), they're going to give a lot of teams fits."
Granite Hills had won 14 consecutive games in the Grossmont Valley League, winning that league three straight years. The Eagles' return to the Grossmont Hills League was not as dominating, but they are 1-0 heading into next week's game at Grossmont.
For Steele Canyon, which plays next week at El Capitan, Barnett was 5-of-12 passing for 106 yards and rushed 21 times for 128 yards. Watson gained 101 yards on 23 attempts.
---
Grossmont Hills League
GRANITE HILLS 30, STEELE CANYON 27
Granite Hills   6  0 13 11 – 30 

Steele Canyon   0 14  7  6 – 27


GH – Cristopher Ostreng 3 run (Justin McElligott kick)
SC – Wesley Neely 15 run (Jonathon Kenney kick)
SC – Kenneth Watson 1 run (Jonathon Kenney kick)
GH – Dylan Rutter 13 pass from Cristopher Ostreng (pass failed)
SC – Kenneth Watson 1 run (Jonathon Kenney kick)
GH – Ethan Raymond 84-yard pass from Cristopher Ostreng (Justin McElligott kick)
GH – FG Justin McElligott 22
SC – Nathan Barnett 1 run (run failed)
GH – Cristopher Ostreng 5 run (Ostreng run)