Patriots concede after Dons lead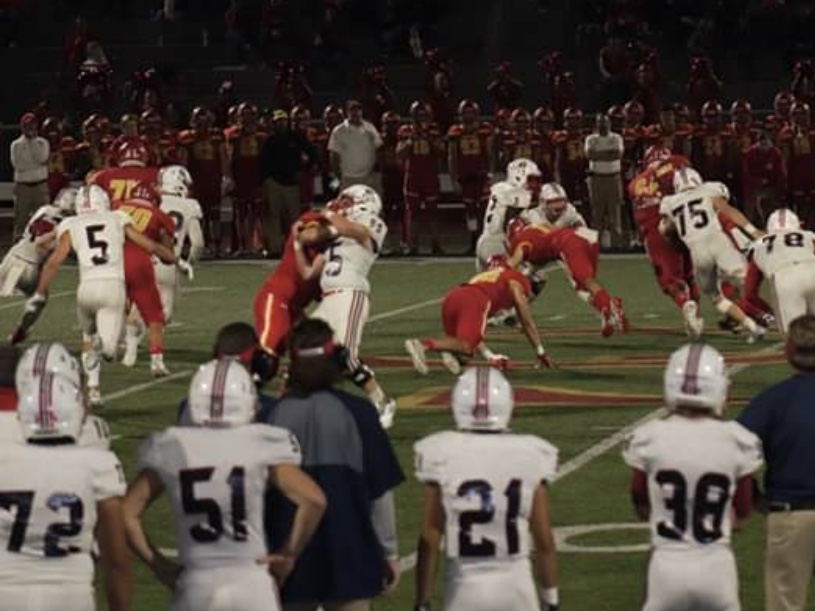 Christian and Cathedral Catholic play on Friday night. / photo by Andy Fierro
2018 EAST COUNTY PREP FOOTBALL
By Dave Dickens
EastCountySports.com
SAN DIEGO (10-12-2018) – Talk about a freaky Friday. Reporters, players, coaches, and referees have never seen such a crazy amount of quirky ways of decided wins, losses, and scores.
From complete games to no contests, and even possible rescheduling to a 10 a.m. Saturday start or a Monday game.
According to the meteorologists across the counties, North, South, City, and East parts of the county were not supposed
to have the arrival of such large amounts of precipitation and lightning warnings until after 9 p.m.
We all know that no matter how sophisticated the weather equipment may be, Mother Nature has her own plans, and not geared towards Friday Night Lights and high school football.
One of the bigger games in the Del Mar area to be played was the visiting Christian High Patriots (7-0) versus the Cathedral Catholic Dons(6-1).
The Dons were heavy favorites, mostly due to their strength of schedule and the fact of playing on their home turf. Let us also add into the equation that the Dons had also defeated another East County team, the elite Helix Highlanders.
If the Patriots were defending their home turf at Valley Stadium, the results could be different, as the home crowd at Cathedral is incredibly loud.
Christian has a great supportive crowd, as well. Let us also factor in the Open Division the Dons are competing for.
The weather did not strike as quickly as the Dons.
The players and Coaching staff also knew this would be the toughest game of the year, especially at Cathedral Catholic.
Cathedral, coming into the contest, was riding a six-game winning streak while the Christian Patriots were undefeated at 7-0.
Christian had experienced the strongest pass rush of the year, and for the most part, proved that they are very strong, athletic, and have great football knowledge, especially with, Senior ALEX "GONZO" GONZALEZ to assist in preparing the line, along with senior signal caller OWEN EASLEY.
"We did some good things on both sides of the ball," said offensive coordinator DAVID BEEZER, of the Patriots.
Easley had thrown an interception and the Patriots were down 21-0 in the second quarter and were headed for halftime very shortly.
Apparently, the CIF rule is to wait 30 minutes once lightning is too close to the field of play.
The game was called, according to Beezer by CIF, and was declared a no contest.
By Sunday, however, Christian High had conceded the outcome after trailing by three touchdowns just 1 1/2 quarters into the game.
The Patriots (7-1) will host the La Jolla Vikings (3-5) next Friday.