Highlanders handle Hillers before half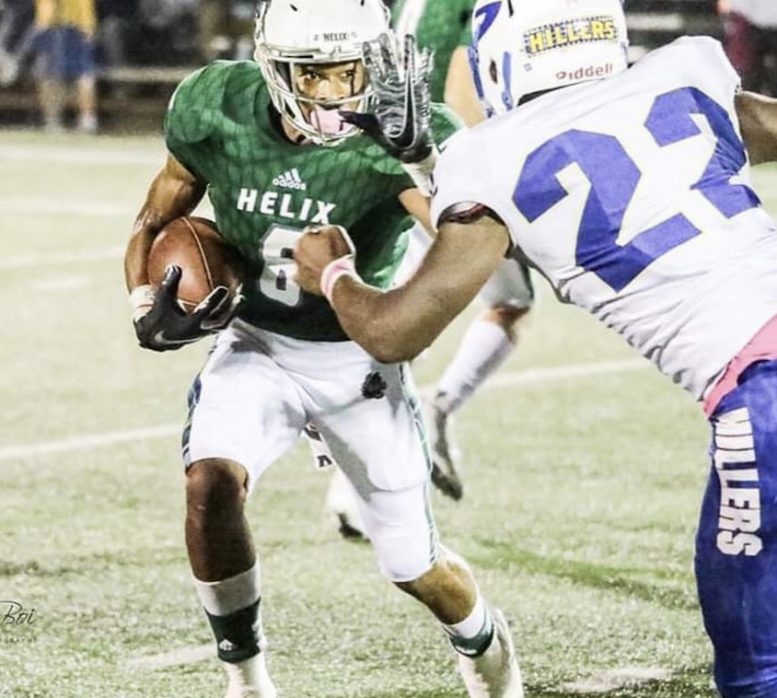 Helix's XAVIER HAMLETT has the ball against Grossmont on Friday night. / photo by Antonio McIntyre
2018 EAST COUNTY PREP FOOTBALL
HELIX 27, GROSSMONT 0
EastCountySports.com staff report
LA MESA – The Helix Highlanders will take their 27-0 win over visiting Grossmont Friday night at Benton Hart Stadium.
The game was decided after just one half of play after thunderstorms struck San Diego County, bringing most of the games, including this annual battle, to an end at halftime.
Helix (5-3, 3-0 GHL), which started the night fourth in the San Diego CIF power rankings, beat Grossmont (2-6, 1-2) for the 22nd-straight time.
Helix's JACOB RAY had an interception return to the Grossmont 9, where DELSHAWN TRAYLOR would run in a 7-yard touchdown a few plays later to open the Helix scoring.
Helix's ELIJAH LAING had a 25-yard field goal to make it 10-0. He added a 29-yarder late in the second quarter to round out the scoring.
The Highlanders may have won the play of the night when four players touched the ball, resulting in a touchdown reception by KAMRYN BROWN for a 31-yard score from Traylor, making it 17-0.
Helix junior ELELYON "FATTO" NOA had a 25-yard touchdown run to make it 24-0.
Grossmont's SKIP WALTOWER caught four passes from quarterback JAIME ODOM, who had 27 attempts before halftime.
Helix travels to Granite Hills for the Grossmont Hills League showdown with the upstart Eagles.
Grossmont visits Steele Canyon next week in another key GHL contest.