Mesa has five picks, El Camino wins late
Updated: October 14, 2018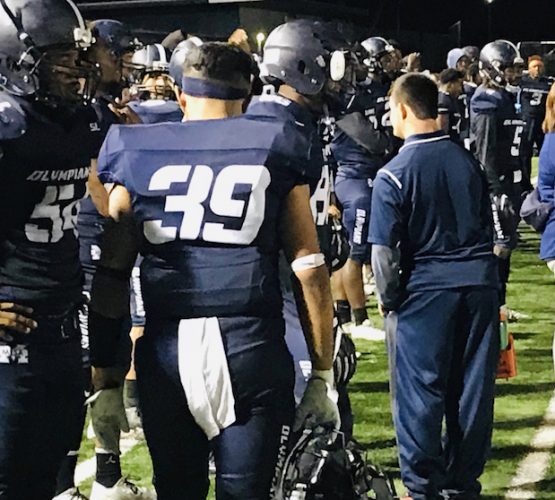 Mesa sideline on Saturday night.
2018 EAST COUNTY PREP FOOTBALL
EL CAMINO 51, SAN DIEGO MESA 44
EastCountySports.com staff report
SAN DIEGO – The El Camino Warriors scored two touchdowns in the final 3:22, including an 18-yard scoring pass with 14 seconds left to defeat host San Diego Mesa in a National Central League opener on Saturday night.
The Olympians did some rallying of their own in the fourth quarter, erasing a six-point deficit with a pair of scores.
DEJON SMITH caught a 7-yard touchdown pass from JAKE DUNNINWAY, then Dunninway rushed for a 17-yard TD to put Mesa up 44-36 with 8:19 to go in the game.
Smith scored on a 36-yard pass from Dunninway early in the second quarter to give Mesa (3-3) a 14-0 lead.
Mesa kicker JUSTIN KAPLAN hit a 31-yard field goal with 4:46 to go in the second quarter as the hosts led 16-7 at the half in a reasonable scoring contest.
Then things broke loose in the second half.
Dunninway had a 36-yard scoring pass to AUSTIN RUMBO to put Mesa ahead 23-14 early in the third after the Warriors scored on their first possession of the second half.
The Olympians pretty much wore out their turnover trashcan again on the sidelines with five interceptions, including one that resulted in a 75-yard touchdown by BRENDAN TORRANCE that gave Mesa a 30-21 edge.
El Camino (4-2) erased that lead and grabbed an edge for the first time with two quick scores late in the third quarter.
The Warriors turned the nine-point deficit into a six-point lead in just 2:15.
After Jonah Tavai tied the game for ECC with his second touchdown with 3:22 remaining, Trevon Clark caught an 18-yard touchdown pass from Aaron Tomas with 14 seconds left.
"(El Camino) did go up-tempo in the second half," Mesa coach GARY WATKINS said. "Our defense played hard until the very last snap."
Dunninway finished with 464 yards passing on 30-of-44 attempts and four touchdowns, although ECC out-gained the Olympians 546-498.
"We didn't execute in the moments that we had to," Watkins said. "Yeah, we made some really explosive plays, but we had the ball inside the 5-yard line two, maybe three, times and we didn't capitalize on that."
The game had 31 penalties for 275 yards combined.
"It's brutal, man," Watkins said. "The number of unsportsmanlike calls, let the kids play."
Smith caught 10 passes for 162 yards, while DOMINIC MCMANUS had seven receptions for 120 yards.
KEVIN LEVESQUE scored the only touchdown of the first quarter on a reception.
Former Mount Miguel Matador SANTINO PACHECO got his interception slammed into the receptacle, while AVEON IRVING had two of the five picks.
"Our defense fought all night," Watkins said. "They were out there for 94 plays and that's a lot of plays for any defense. That takes a toll when the game comes down to the wire."
Mesa faces Cerritos College next on the road.
---
SCORING
1
2
3
4
FINAL
El Camino (5-2, 2-0)
 0
 7
 29
 15
 51
San Diego Mesa (3-4, 0-2)
 7
 9
 14
 14
 44
San Diego Mesa | Merrill Douglas Stad
PRD
TIME
SCORING SUMMARY
EL CAMINO – SAN DIEGO MESA
1
02:34
San Diego Mesa – Kevin Levesque 25 yd pass from Jake Dunninway. (Justin Kaplan kick is good).
Drive: 1 plays, 1 yards in 0:05.
0 – 7
2
13:07
San Diego Mesa – Dejon Smith 36 yd pass from Jake Dunninway. (Justin Kaplan kick failed).
Drive: 3 plays, 21 yards in 1:19.
0 – 13
2
08:12
El Camino – Kishawn Berry 19 yd pass from Grant Ferrauilo. (Chris Valle kick is good).
Drive: 6 plays, 10 yards in 1:58.
7 – 13
2
04:46
San Diego Mesa – Justin Kaplan 31 yd field goal.
Drive: 10 plays, 62 yards in 2:49.
7 – 16
3
12:05
El Camino – Trevon Clark 13 yd pass from Grant Ferrauilo. (Omar Beltran kick is good).
14 – 16
3
09:46
San Diego Mesa – Austin Rumbo 36 yd pass from Jake Dunninway. (Justin Kaplan kick is good).
Drive: 6 plays, 80 yards in 1:55.
14 – 23
3
07:11
El Camino – Kishawn Berry 10 yd pass from Grant Ferrauilo. (Chris Valle kick is good).
Drive: 3 plays, 30 yards in 0:49.
21 – 23
3
05:31
San Diego Mesa – Brendan Torranc 75 yd interception return. (Justin Kaplan kick is good).
Drive: 13 plays, 55 yards in 4:57.
21 – 30
3
02:15
El Camino – Trevon Clark 15 yd pass from Aaron Thomas. (Omar Beltran kick is good).
28 – 30
3
01:10
El Camino – Jonah Tavai 3 yd run. (2pt conversion pass by Shawn Prejean is good).
36 – 30
4
12:40
San Diego Mesa – Dejon Smith 7 yd pass from Jake Dunninway. (Justin Kaplan kick is good).
36 – 37
4
08:19
San Diego Mesa – Jake Dunninway 17 yd run. (Justin Kaplan kick is good).
36 – 44
4
03:22
El Camino – Jonah Tavai 1 yd run. (2pt conversion rush by Raymond Graham is good).
44 – 44
4
00:14
El Camino – Trevon Clark 18 yd pass from Aaron Thomas. (Chris Valle kick is good).
51 – 44
EL CAMINO
STATISTICS
SAN DIEGO MESA
36
FIRST DOWNS
25
20
13
3
Passing
Rushing
Penalty
18
2
5
59% (10 of 17)
THIRD DOWN EFFICIENCY
43% (6 of 14)
67% (2 of 3)
FOURTH DOWN EFFICIENCY
0% (0 of 2)
546
TOTAL OFFENSE
498
94
5.8
Total Offensive Plays
Average gain per play
72
6.9
346
NET YARDS PASSING
464
32-51
6.8
1-10
5
Completions-Attempts
Net yards per pass play
Sacked: Number-Yards
Had intercepted
30-44
10.5
2-16
2
200
NET YARDS RUSHING
34
43
4.7
Rushing Attempts
Average gain per rush
28
1.2
3-103
PUNTS: Number-Yards
3-126
34.3
Average
42.0
119
TOTAL RETURN YARDS
181
1-4
8-103
2-12
Punt Returns: Number-Yards
Kickoff Returns: Number-Yards
Interception Returns: Number-Yards
0 0
4-56
5-125
15-142
PENALTIES: Number-Yards
16-126
1-1
FUMBLES: Number-Lost
3-2
2-16
SACKS: Number-Yards
1-10
2-12
INTERCEPTIONS: Number-Yards
5-125
28:25
TIME OF POSSESSION
31:35
El Camino

San Diego Mesa

| PUNTING | NO | YDS | AVG | LG | TB | IN 20 |
| --- | --- | --- | --- | --- | --- | --- |
| Cade Weaver | 3 | 126 | 42.0 | 47 | 0 | 1 |

| KICKOFF RETURNS | NO | YDS | AVG | LG | TD |
| --- | --- | --- | --- | --- | --- |
| Aveon Irving | 1 | 19 | 19.0 | 19 | 0 |
| Aveon Irving | 1 | 18 | 18.0 | 18 | 0 |
| D.J. Dotson | 1 | 17 | 17.0 | 17 | 0 |
| Matt Cain | 1 | 2 | 2.0 | 2 | 0 |

| PUNT RETURNS | NO | YDS | AVG | LG | TD |
| --- | --- | --- | --- | --- | --- |

| INTERCEPTION RETURNS | NO | YDS | AVG | LG | TD |
| --- | --- | --- | --- | --- | --- |
| Isaiah Lemos | 2 | 12 | 6.0 | 13 | 0 |
OTHER INFORMATION
Location: San Diego Mesa
Stadium: Merrill Douglas Stad
Attendance: 165
Weather: Cloudy
Temperature: 65
Wind: 8 NNE