Johnson scores three TDs in Saddleback win over Jaguars
Updated: October 14, 2018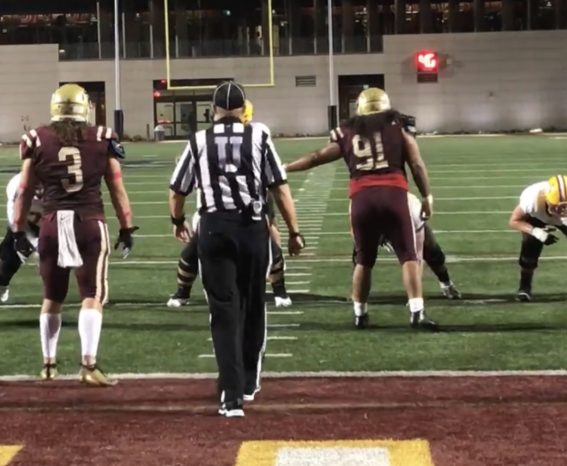 Southwestern defense sets up against Saddleback on Friday night.
2018 COMMUNITY COLLEGE FOOTBALL
SADDLEBACK 39, SOUTHWESTERN 20
EastCountySports.com staff report
CHULA VISTA – Former Valhalla High running back JEROME JOHNSON rushed for three touchdowns in the second half, helping the Saddleback Gauchos defeat Southwestern, 39-20, in the National Southern League opener at DeVore Stadium on Saturday night.
Saddleback led 11-7 at halftime before Johnson, a sophomore who played for Grossmont College last season, rushed for two scores in the third quarter, extending the lead to 25-7.
Johnson has five touchdowns this season.
His third score came with 2:30 left in the game, helping push a 32-20 Gaucho lead to 19.
Saddleback (3-3, 1-0 NSL) opened the scoring with a 33-yard field goal then Southwestern scored the first touchdown of the game to start the second quarter and grab a 7-3 lead as DEANDRE DANIELS rushed in from eight yards away.
Saddleback then scored 29-straight points, starting with a  67-yard touchdown to give the Gauchos an 11-3 lead nearly midway through the second quarter.
"They outplayed our offense with their defense," Southwestern head coach ED CARBERRY said. "
Southwestern's MARCUS HERNANDEZ-TORREZ scored on a three-yard run as the Jags put together a couple of scores in the fourth.
TERRELL JOHNSON scored on a three-yard run with 7:47 left in the game.
Daniels finished with 94 yards rushing.
Southwestern quarterback DEMONTE MORRIS was 10-of-18 for 121 yards.
Former Steele Canyon Cougar COLTON LARCEVAL had seven tackles for Saddleback.
LOGAN DARBY led Southwestern with eight tackles, while teammate ANGELO TRUJILLO had an interception.
Southwestern's DANIEL KEMP recorded a pair of sacks.
ALEXIS QUINONES and SIO PONGIA had fumble recoveries for the Jags (4-2, 0-1 NSL).
"We were presented with opportunities to change the outcome of the game and we didn't make the plays," Carberry said. "(Johnson) played better than in the past games we've seen on video."
Saddleback outgained Southwestern 503-262.
"There were about five plays that decided the game tonight and they made four of the five," Carberry said. "We dropped a couple of touchdowns and missed a field goal. You don't win when that happens.
"We were just a little out of sync."
Southwestern will play Grossmont this week to try and complete sweep the county teams.
The game will be played on the blue turf of West Hills High while the Griffins' field undergoes renovations.
---
SCORING
1
2
3
4
 FINAL
Saddleback
 3
 8
 14
 14
 39
Southwestern
 0
 7
 0
 13
 20
Chula Vista, CA | DeVore Stadium
PRD
TIME
SCORING SUMMARY
SADDLEBACK – SOUTHWESTERN
1
06:56
Saddleback – Matthew Freem 33 yd field goal.
Drive: 13 plays, 58 yards in 5:57.
3 – 0
2
14:29
Southwestern – Deandre Daniels 6 yd run. (Jaime Medina kick is good).
Drive: 9 plays, 43 yards in 3:27.
3 – 7
2
07:33
Saddleback – Austin Derrico 67 yd pass from R. Patterson. (2pt conversion rush by Sefo Mailangi is good).
Drive: 2 plays, 65 yards in 0:46.
11 – 7
3
11:35
Saddleback – Jerome Johnson 1 yd run. (Matthew Freem kick is good).
Drive: 8 plays, 65 yards in 3:25.
18 – 7
3
04:14
Saddleback – Jerome Johnson 7 yd run. (Matthew Freem kick is good).
Drive: 4 plays, 32 yards in 1:24.
25 – 7
4
13:40
Saddleback – R. Patterson 38 yd run. (Matthew Freem kick is good).
Drive: 7 plays, 85 yards in 3:22.
32 – 7
4
11:32
Southwestern – M. Hernandez-To 3 yd run. (Jaime Medina kick is good).
Drive: 8 plays, 63 yards in 2:00.
32 – 14
4
07:47
Southwestern – Terrell Johnson 3 yd run. (2pt conversion pass by M. Hernandez-To failed).
Drive: 2 plays, 13 yards in 0:17.
32 – 20
4
02:30
Saddleback – Jerome Johnson 1 yd run. (Matthew Freem kick is good).
Drive: 9 plays, 49 yards in 5:17.
39 – 20
SADDLEBACK
STATISTICS
SOUTHWESTERN
22
FIRST DOWNS
14
11
11
0
Passing
Rushing
Penalty
5
7
2
56% (10 of 18)
THIRD DOWN EFFICIENCY
23% (3 of 13)
100% (1 of 1)
FOURTH DOWN EFFICIENCY
50% (1 of 2)
503
TOTAL OFFENSE
262
75
6.7
Total Offensive Plays
Average gain per play
59
4.4
263
NET YARDS PASSING
139
23-30
8.8
3-12
1
Completions-Attempts
Net yards per pass play
Sacked: Number-Yards
Had intercepted
11-27
5.1
1-3
1
240
NET YARDS RUSHING
123
45
5.3
Rushing Attempts
Average gain per rush
32
3.8
3-94
PUNTS: Number-Yards
6-173
31.3
Average
28.8
22
TOTAL RETURN YARDS
139
2-11
2-11
1-0
Punt Returns: Number-Yards
Kickoff Returns: Number-Yards
Interception Returns: Number-Yards
1-5
6-134
1-0
6-50
PENALTIES: Number-Yards
2-5
2-2
FUMBLES: Number-Lost
0-0
1-3
SACKS: Number-Yards
3-12
1-0
INTERCEPTIONS: Number-Yards
1-0
37:41
TIME OF POSSESSION
22:19
Saddleback

Southwestern

| PUNTING | NO | YDS | AVG | LG | TB | IN 20 |
| --- | --- | --- | --- | --- | --- | --- |
| Jaime Medina | 6 | 173 | 28.8 | 39 | 0 | 2 |
OTHER INFORMATION
Location: Chula Vista, CA
Stadium: DeVore Stadium
Attendance: 500
Weather: 65
Temperature: Cloudy
Wind: None