Vaqueros open state playoffs with win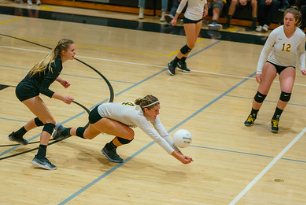 El Capitan goes for a dig on Tuesday night.. / photo by Scott Barnhill - CSPROPHOTO
2018 EAST COUNTY PREP VOLLEYBALL
EL CAPITAN 3, ARCHER SCHOOL FOR GIRLS 1
EastCountySports.com staff report
LAKESIDE – The El Capitan girls volleyball team defeated Archer School for the Girls, 25-23, 25-16, 24-26, 25-17, on Tuesday evening in the CIF Southern California Division III regionals.
The clubs came into the match rated very closely in the power rankings, as the Nos. 4 and 5 teams in the state division tournament, although Archer was seeded 14th overall.
El Capitan, The No. 3 seed in the regional, was scheduled to face Bakersfield Christian at 7 p.m. on Thursday. The Eagles are the No. 6 seed.
Junior outside hitter STEPHANIE ADAMS led the Vaqueros with 28 kills, while senior SARAH MARKLE added 17 kills. Both stars had a team-high 14 digs.
Sophomore AUDREY TUCKER had 45 assists.
FAITH ADAMS, a sophomore, served four El Cap aces.
El Capitan improved to 29-12.