Hawks extend opening win streak to four
Updated: November 10, 2018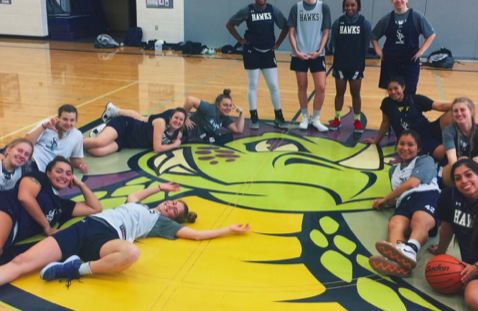 San Diego Hawks women's basketball team
2018 SAN DIEGO HAWKS WOMEN'S BASKETBALL
East County Sports staff report
WALLA WALLA, Wash. (11-11-2018) – Although East County-based college basketball programs from both genders are all off to slow beginnings this season, there is one ballclub that is shining with one of their best starts in years.
The San Diego Christian College women's basketball team ran its record to 4-0 after completing a weekend sweep of host Walla Walla University at Windemuth Court. On Saturday (Nov. 10), the Hawks staved a late Wolves rally to take a 62-56 decision.
Henriette Gahmig and Colleen Murphy had tallied a team-high 16 points, as their balanced scoring offset a game-best 24-point outing from Walla Walla reserve guard Aaliyah Anderson, who hit for 24 points.
San Diego Christian jumped quickly to a 10-point lead by halftime, 26-16, before the fatigue of the long trip set in. However, strong rebounding – a 48-38 advantage – allowed them to control the paint and keep WWU at bay.
Murphy led on the boards with 11, while Dayna Hansen came off the bench to produce 6 points and 6 boards in just 14 minutes of action.
Down the stretch, Henriette Gahmig hit a short jumper to push the Hawks lead to 11 points, 50-39, but Walla Walla moved within a bucket following a pair of Anderson foul shots with 1:34 remaining to make it 52-50.
However, the Hawks capped the opponent's 11-2 run on Shaylene Toehe's driving layin, then a 3-point goal from Gahmig with 47 seconds remaining.
San Diego Christian completes its 3-game trip to the Pacific Northwest on Monday (Nov. 12), heading to Portland to meet Multnomah University at 5 p.m. The Lions are off to a 3-2 start.