Roark is the boss in Kings' 2-0 start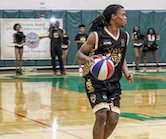 Branden Roark / photo by Michael Flix
2018 SAN DIEGO KINGS BASKETBALL
East County Sports staff report
SAN DIEGO (11-11-2018) – The San Diego Kings raced to a huge 26-point halftime lead, allowing the defending Far West Conference champions of the American Basketball Association to ax the visiting Oakland Town Hawks, 123-105, Saturday (Nov. 10) at Lincoln High School.
It was no fantasy for Branden "Mr." Roark, who sank 10-of-12 shots from the field for a game-high 22 points to duel the unbeaten Kings (2-0).
Leading 27-21 through the first period, a 36-16 advantage in the second quarter ended this one quickly.
Forward Nathaniel Wright (Utah State) added 10 rebounds, while guard Keoni Watson (Idaho) posted 8 assists for San Diego.
The Kings return to action with a 2-game road trip to Arizona, meeting the Tucson Buckets on Nov. 17, then the Arizona Beasts on Dec. 17. The next home game is Sat., Dec. 1, against the San Diego Surf, starting at 6 p.m.