Vaqueros' Bickford takes time for game
Updated: November 22, 2018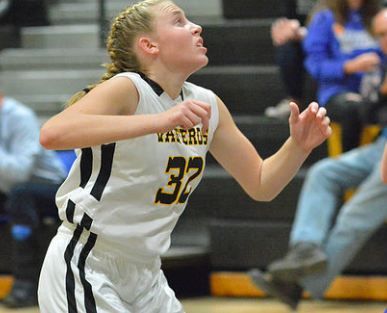 El Capitan freshman TIFFANY BICKFORD / photo by Ramon Scott
2018 EAST COUNTY PREP GIRLS BASKETBALL
EastCountySports.com staff report
LAKESIDE –  El Capitan freshman TIFFANY BICKFORD doesn't know when to quit.
Which can be a good thing if you're a high school basketball coach developing young talent.
It also helps when that talent is the daughter of a basketball coach, as well.
See, Bickford, whose dad, JEFF, is the head coach of the El Cap boys team, really enjoys practice.
After all, an actual game rarely lasts more than 90 minutes.
"With my dad being the boys' coach that helps a lot," Bickford, who scored eight points in the Vaqueros' 67-43 win over visiting Rancho Buena Vista on Wednesday. "I get to spend way more time in the gym getting better at doing what I love. After a two-to-three hour practice, I normally practice for three hours more."
On Wednesday, "Veteran" teammates, sophomore MACKENZIE CURTIS scored 28 points and junior JORDAN GRANDY added 18 points for El Capitan in the non-league contest.
Curtis scored eight points in the first quarter as the hosts got off to a 17-11 start after one quarter.
"When we started slowly against (Rancho Bernardo in a 57-55 loss the day prior), we paid the price in the end," Curtis said. "We played extremely sloppy today and as sloppy as we played, we still executed."
Grandy had four three-pointers on the evening, including two in the second quarter, as the Vaqueros led 33-18 at intermission.
Bickford knocked down a pair of three-pointers in the fourth quarter.
"I take pride in playing for this team and for that reason I try every day to getter better mentally and physically at the game," Bickford said. "Being the only freshman on the team it gives me a lot of pride and respect for my team. They allowed me a spot to show high school basketball that I am a player."
Sophomore SHIANA PERES and Curtis were both 5-for-5 from the foul stripe on Wednesday night.
Junior DEVIN BULLOCK had a pair of field goals in the third quarter and sophomore KYLIE MEAD added four points, as well, to round out the El Cap scoring.
"Bullock stepped up her defense and looked to score," El Capitan coach DARRIN CURTIS said "Grandy was impressive, the freshman, Bickford, is looking to score more, and (STEPHANIE) YEAKLE and Mead gave us productive minutes off the bench."
The El Capitan girls were still stinging from a defeat a day earlier. A game in which the team spotted the visiting Broncos a big early lead in the first half, which made their comeback effort just too much to overcome in a two-point loss.
"Even though it was a loss, it showed the part of us that was tenacious," Mackenzie Curtis said. "We definitely don't have a drop off in skill level coming from our bench. We are still a young team, but have moved from where we were last year."
The Vaqueros, already at 2-1, will face University City, making its season debut, in a non-league game on Friday evening at 6:30, once again in Lakeside.
"Right now we are relying on our ability to shoot well to determine how we play," Darrin Curtis said. "We need to focus on our defense and rebounding to reach our full potential."
Meanwhile, for Tiffany Bickford, the game against the Centurions will be a break from her practice sessions.
"I am a very hard worker and that I won't give up until I'm the best at that thing," said the freshman. "I try my hardest to make the fewest mistakes possible by relaxing and focusing on my game. I spend a lot time in the gym working on getting stronger. I have been working on my defense and I believe rebounding has become a big part of my game now."
And we're just talking about practice, here. Allen Iverson wouldn't be impressed.
"(Tiffany) is a hard-working sweetheart," Darrin Curtis said. "She's nervous about disappointing the team.
"The biggest surprise so far this season is the offensive rebounding of Bickford and Yeakle, I couldn't be more proud of their effort."
MT. CARMEL 38, SANTANA 29 – The Sundevils pulled away from what was a tense defensive standoff in the first quarter.
Mt. Carmel led just 5-4 after the first eight minutes as senior AALIYAH STONE, who led the Sultans with eight points and seven rebounds, and freshman BELLA TERRY, who finished with six points, both had field goals.
However, the Sundevils would lead 20-12 at halftime and Santana was outscored 14-4 in the critical third quarter.
Santana junior LAKAILA AGUININGOC added seven points in the contest, including a three-pointer in the fourth quarter, as the Sultans outscored the Sundevils, 13-4. She was 4-for-4 from the line and grabbed five rebounds.
Junior ISIS TAYLOR had four points and five rebounds for the Sultans, while junior teammate BRIANNA JERIG had four points and six steals.
"It was the most active defensively I've seen from this squad," Santana head coach JORDAN FRANEY said. "I'm super proud of these kids and their relentlessness."