Broncos hold on against Vaqueros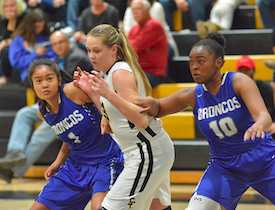 El Capitan's Kylie Mead positions during a free throw against Rancho Bernardo. / photo by Ramon Scott
2018 EAST COUNTY PREP GIRLS BASKETBALL
EastCountySports.com staff report
LAKESIDE – The El Capitan High girls varsity basketball team quickly got back into the game in the third quarter against visiting Rancho Bernardo on Tuesday night but the Vaqueros' effort fell just short in a 57-55 loss in a matchup of Top 25 teams in the county.
The Broncos are a likely favorite to win the Palomar League.
Rancho Bernardo was the sharper team early, taking a 15-6 lead at the end of the first quarter.
The Vaqueros trailed 31-20 at halftime. El Capitan fell to 1-1.
Sophomore MACKENZIE CURTIS led El Capitan with 21 points, including 16 in the second half.
Junior JORDAN GRANDY had a pair of three-point field goals in the second quarter and finished with 13 points overall, 10 coming in the first half.
Sophomore KYLIE MEAD added eight points for El Cap, while sophomore SHIANA PERES added seven and freshman TIFFANY BICKFORD came home with six for the Vaqueros.
El Capitan will host Rancho Buena Vista at noon on Wednesday.
MOUNT MIGUEL 67, SAN PASQUAL 26 – MICHELLE CORLEY picked up where she left off last season and scored 20 points, including four three-pointers, as the Matadors downed San Pasqual on Tuesday night.
Mt Miguel led 18-4 at the end of one quarter and 37-9 at halftime.
The Matadors earned  30-17 edge in the second half.
SYLENA PETERSON added 18 points for Mount Miguel, while teammate TIAJA BENNETT contributed 12 points.
Senior LALLI GURROLA came home with 10 points.
Still, the performance of his Matadors was not as pleasing to the eyes of discernable coach ROBBIE SANDOVAL.
"I was not pleased with our performance," Sandoval said. "We had 23 missed layups. We have a lot to improve on."
FOOTHILLS CHRISTIAN 57, MAR VISTA 42 – No team in the county has as many wins at the Foothills Christian Knights.
ELLIE TURK poured home 32 points, including eight three-point field goals, for the Foothills Christian Knights.
Turk also had seven assists, five steals and five rebounds.
NATALY BRAVO, a freshman, added 13 points for the Knights.
Sophomore ARANTXA FONSECA added 10 points and three blocked shots for the FCHS girls.
Freshman FAITH WILSON had a team-high six rebounds for Foothills.
CARLSBAD 56, WEST HILLS 36 – The Lancers were in control in this one most of the way but the Wolf Pack had an impressive close to the first half to close the lead to 26-21 at intermission.
Senior HALEY DOUCETTE and junior PAIGE EVANS hit three-pointers in the second quarter for West Hills, which was playing its first game of the season. Doucette also had a three in the first quarter.
ANASTASIA TIMOTHY and MADDIE GLASS made field goals in the late second quarter rush.
The Lancers, who improved to 2-0, led 15-9 at the end of the first quarter.