Eagles pin loss on rival Norsemen
Granite Hills controls Valhalla on Wednesday night
2018 EAST COUNTY PREP WRESTLING
GRANITE HILLS 41, VALHALLA 29
By John Duran
EastCountySports.com
EL CAJON – The Pin Belt was in full display Wednesday night as the Granite Hills Eagles opened up league competition Wednesday night at home defeating the Valhalla Norsemen, 41-29.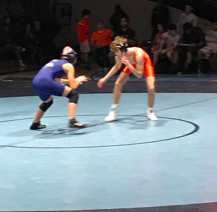 Pins were the difference in this match. All of the Eagles' victories came via fall.
"Our big guys had a big night for us," Eagles coach Jesse Sheard said. "When the pressure was on Skyler Hillberg (170), Jeremiah Satberry (182), Izak Arredondo (195), and Damian Hidalgo (220) came through and made a statement. I'm proud of how they performed under pressure."
Everyone who gets a pin in a dual gets to sport the belt until their next match.
Bailey Christian, the 138-pounder for Granite Hills, showed a lot of heart, possibly saving the dual meet for his team. A minute into his match and his team losing four matches in a row, Christian split his lip in half, resulting in a lot of blood loss.
"He had the option to stop wrestling but instead stopped the blood and continued to go. He was determined to get the win and came through and got the pin," coach Sheard said. "His pin was huge for us. He showed a lot of heart and leadership tonight. He made us coaches proud, and showed other wrestlers the determination needed for the sport."
Leading 35-29 with one match to go, 220 pounder Damian Hidalgo sealed the victory for the Eagles with a pin.
It was a great night of wrestling in East County to open up league matches. The ambiance in El Cajon was what you would expect out of a league meet.
"Intense matches like this get the crowd going and everyone is involved," coach Sheard said. "Valhalla did great preparing their guys to wrestle this week. They came out ready for war and brought it to us.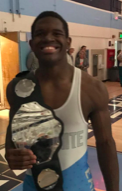 Results:
HWT Jacob Nunez W pin
108 Kailey Smith W pin
113 Josh Ryan L pin
120 Kaden Long L decision
126 Ryder Harris L pin
132 Justin Carroll L decision
138 Bailey Christian W pin
145 Bryce Christian L decision
152 Josh Runge L Major decision
160 Nicholas Devaux L major decision
170 Skyler Hillberg W pin
182 Jeremiah Satberry W pin
195 Izak Arredondo W pin
220 Damian Hidalgo W pin