WOMEN: Comets more than double up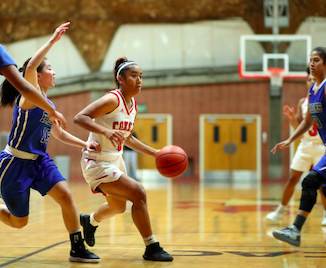 Palomar drives against Norwalk on Friday. / photo by Hugh Cox
2018 COMMUNITY COLLEGE WOMEN'S BASKETBALL
East County Sports staff report
SAN MARCOS (1-5-2019) – No. 8-ranked Palomar College used a barrage of 3-point goals to open the new year, burying visiting Cerritos College of Norwalk, 98-47, Friday (Jan. 4) in a non-conference game at Palomar Dome.
The ballgame was a White Bracket contest of the Southern California Crossover Challenge.

The Comets (12-3) erupted for early leads of 13-0 less than three minutes into the ballgame, then 22-2, to make quick work of the Falcons.

Palomar needed the good outing as an important tune-up in the race for the CCCAA state championship. They next meet No. 4 L.A. Trade-Tech (11-2), which came to town earlier in the day to swamp Grossmont, 121-44.

The Comets bombed home 18 triples to bounce Cerritos,

Julie Saelee led the Comets with 19 points, going 7-for13 from the floor, and 4-for-9 from behind the 3-point arc, while DeDe Valenzuela added 15 points, going 4-for-6 on three-pointers.

Other double-figure scorers for the Comets were Morgan Heise (10), Makenna Gentry (11), and Imari Cooley (10).
Irvine Valley 83, San Diego City 57: The best team record-wise from the Orange Empire Conference came to town to meet the best from the PCAC South, but it was all Lasers in Friday's (Jan. 4) non-conference affair at Harry West Gum.

For the Lasers (10-3), Anai Washington led with 19 points, while Megan Herrera and Lexi Vail| each added 13. Vail is better noted as a volleyball standout for Irvine Valley.

The Knights (6-8) received 12 points each from Breeana Gafare and Elliott Nixon, but the hot-shooting Lazers were just one shot under .500 (29-for-60) from the floor while the IVC defense registered 16 steals.
L.A. Trade-Tech 121, Grossmont 44: The state-ranked Lady Techsters recorded the moist points ever allowed by the Griffins in Friday's (Jan. 4) non-conference game in El Cajon.

LATT (16-2) utilized a 28-2 second quarter to mount a 50-point halftime lead, then broke the Griffins' back with a record 45-point outburst in the third period.

Cheyenne McKinnie led the Lady Techsters with 31 points, while Cheyenne
Givens added 25. Both scored 11 in the decisive third period.

Struggling Grossmont (1-11) received 24 points from Satori Roberson; she had scored 20 for the entire season entering the contest. Roberson, a sophomore, also grabbed 10 rebounds, just two shy of her career high.