Spartans quietly making title run; Griffins comeback falls short
Updated: January 10, 2019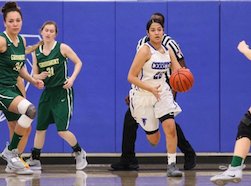 Cerritos' JESSICA RENDON against Grossmont on Wednesday.
2019 COMMUNITY COLLEGE WOMEN'S BASKETBALL
East County Sports staff report
OCEANSIDE (1-10-2019) – Since the old Desert Conference – a conference filled with small-enrollment schools located in sparse population centers – folded in the early 1980s, MiraCosta College has not captured any conference championships in women's basketball. None.

However, the new-look Spartans are now poised to make a title run after Wednesday's (Jan. 9) triumph in the Pacific Coast Athletic Conference North-South Challenge.

At Crosswoods Gymnasium, MiraCosta defeated Southwestern, the top team in the PCAC South, 85-82, moving their overall record to 10-4 overall. Based on winning percentage, the Spartans moved ahead of Mt. San Jacinto (12-5), and moved within range of 78 Highway rival Palomar (13-3), which suffered a lopsided loss.

Both Mt. San Jacinto and Palomar are listed in the state rankings. MiraCosta would now like to state its case under first-year head coach Kai Harris, 30, who guided a once-doormat Rancho Bernardo High girls basketball team to a CIF San Diego Section title last season.

No game details of the MiraCosta-Southwestern game were reported.
L.A. Trade-Tech 69, Palomar 53: At historic Laurel Gym, the speed of the Lady Techsters defense pushed the visiting Comets into severe shooting woes, allowing the hosts to turn a tied ballgame into a double-digit non-conference victory.

Tied ay 19-all through the first period, LATT increased the pressure on defense, as Palomar shot a mere 2-for-18 from the floor (11.1 percent) in the second period, falling behind 34-25 at the half.

The margin then went to 15 points through three periods, as the Comets hopes of any comeback were thwarted when one of their top scorers played with massive foul trouble. Clarissa Taite was held to 22 minutes with three fouls and did not score.

Dee Dee Valenzuela came off the bench to score a team-best 13 points, but she shot just 3-for-10 from beyond the arc. The only other Comets in double figures scoring was Julie Saelee and Imari Cooley with 12.

For L.A. Trade-Tech (17-2), ranked fifth in the state and No. 2 behind Moorpark in Southern California, has now won five consecutive contests.

Leading the Lady Techsters was freshman point guard Cheyenne Givens, one of the state's top scorers (23.5 ppg), who produced a game-best 27 points, including 11 in the first period. Givens also added 8 rebounds and 3 assists.

Six-foot-3 center Adesuwa Igbineweka equaled a career-high with 15 rebounds, her third such outing of the season. Igbineweka, who sat out for two seasons after graduating from Hawthorne High in 2015, now had 43 boards in her last three contests (14,3 rpg).

Meanwhile, sophomore Cheyenne McKinnie, the MVP when LATT captured the Grossmont Holiday Invitational, had 9 points and 6 boards. Givens was also named to the all-tournament team.

Cerritos 72, Grossmont 65: At The Aviary in Norwalk following a record-breaking loss to L.A. Trade-Tech, the Griffins bounced back to easily post their second-best effort of the season (besides their win over Santa Monica) in taking their former South Coast Conference rival Falcons down to the wire.

After-trailing 15-4 out of the gate, Grossmont twice moved to within a point in the final moments on a Drew Mendoza foul shot to make it 64-63 with 2:03 remaining, then a Devann Horton basket to make it 66-65 with 48 seconds left. However, the Griffins couldn't get one final defensive stop as Cerritos closed by gong 6-for-6 at the foul line

For Cerritos (11-8), Jesenia Rendon scored a career-best 31 points, shooting 13-for-14 at the foul line. Serena Rendon added 17 points.

The Griffins received 257 rebounds from Chiara Mattern, while Mendoza just missed a triple-double with 19 points, 10 assists and 7 boards.

In addition, Satori Roberson posted a career-best 13 rebounds, bettering her previous mark of 12 set in the season opener against Glendale.

Grossmont (1-12) has now lost 10 straight, but because of a weak South Division line-up in the Pacific Coast Athletic Conference – none of the five schools owns a winning record – a much-improved second half to the season remains expected.