Gaines leads Norse to 7th-straight win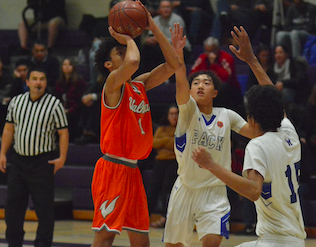 Valhalla's Jordan Gaines puts up a shot on Friday night against West Hills.
2018 EAST COUNTY PREP BOYS BASKETBALL
VALHALLA 61, WEST HILLS 50
By Ramon Scott
EastCountySports.com
SANTEE – The Valhalla Norsemen won their seventh-consecutive game on Friday night, defeating the West Hills Wolf Pack, 61-50, at the Santana New Year's Classic.
Senior JORDAN GAINES had a spectacular performance, scoring 26 points, as the Norsemen improved to 12-2.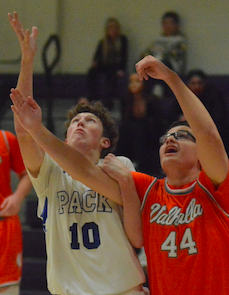 Gaines also had six rebounds and four steals.
Valhalla senior EVAN O'NEILL made five three-pointers on the way to 17 points. He also had 11 rebounds.
Senior DOMANIC SAFARTA added 12 points for the Norsemen, including three treys. He also had eight assists and four steals.
West Hills, which came into the game having won seven of its last nine contests, was a formidable challenger for most of the game.
The Wolf Pack trailed early but whittled the Valhalla advantage down in the second quarter, and eventually took the lead with under two minutes to play before intermission on a three-pointer by sophomore guard ASHTON AVESTRO.
The shot was set up by the hustle of West Hills senior guard MICHAEL TOTAH, who went to the floor to wrestle a steal, before passing the ball while still on the hardwood to the open shooter.
However, a quick spurt before the break left Valhalla ahead 33-29, as Gaines had 14 points in the first half including a three-point buzzer-beater in the second, while O'Neill contributed 11 points in the first 16 minutes.
Both teams were sharp from downtown for most of the game.
Wolf Pack sophomore CASH CREIGHTON had four threes in the contest, including two in the fourth quarter, as the Pack tried to stay with the favored Norsemen.
Avestro also had a three-pointer in the fourth quarter on his way to a team-high 16 points.
Creighton finished with 12 points, while senior guard MICHAEL TOTAH added 11 points for West Hills (9-5).
However, Gaines scored eight points over the final eight minutes, including 4-for-4 from the line.
On Saturday, the Wolf Pack will meet the host Santana Sultans at 7:30 p.m.
The Norsemen will meet Victory Christian on Saturday at 3 p.m., also at Santana.