Sultans win, move to top of Valley class
Updated: January 12, 2019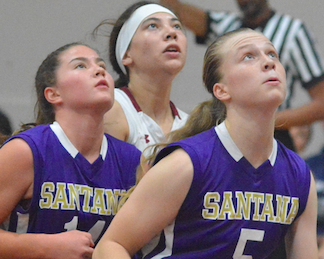 Santana freshmen ALYSSA DIFILIPPIS and BELLA TERRY block out Steele Canyon on a rebound Friday night. / photo by Ramon Scott
2019 EAST COUNTY PREP GIRLS BASKETBALL
SANTANA 36, STEELE CANYON 35
EastCountySports.com staff report
SPRING VALLEY – The Santana Sultans have discovered their identity as a basketball team and earned their way to the top of the Grossmont Valley League standings.
The Sultans may have had their struggles during the non-league portion of their schedule but they were buoyed by a four-game winning last month, learning their potential.
And now in a Grossmont Valley League that is in need of a favorite, Santana has impressively stepped into that roll following a 36-35 road victory over Steele Canyon Friday night.
It wasn't easy against the Cougars, who battled to tie the game late.
Santana juniors LAKAILA AGUININGOC-DAVID and BRIANNA JERIG both scored 11 points and combined for 10 steals, as the Sultans moved to 2-0 in league play.
Inside presence AALIYAH STONE had 10 points, including several key baskets in the second half.
The Sultans might have decided this result with a great rebounding performance.
Stone had 11 rebounds, while freshman BELLA TERRY had 12 boards and junior ISIS TAYLOR grabbed 10 caroms while also making four steals.
Aguiningoc-David had a pair of field goals in the third quarter and Stone was the recipient of some fine inbounds passes from the baseline for a pair of key buckets during the deciding minutes of the contest.
Steele Canyon junior KHYLAYA BRANDY helped the Cougars almost pull off the win, hitting a pair of fourth-quarter three-pointers on her way to a game-high 21 points.
Steele Canyon senior LALA WADLEY hit a late basket to close the Santana lead to 36-35.
Santana (6-12) hosts Monte Vista on Tuesday at 6, while Steele Canyon will face the other first-place team in the Valley League, Valhalla, on Tuesday at 6.